Welcome to

ElevatED with Google

taking place on


28th April in the Google Foundry, Dublin.


Bringing together Ireland's top educators, thought leaders and digital technology tools, ElevatED is designed to build students' independent learning skills and personalise learning, connect you with real school leaders to discover how they turned their vision for teaching and learning into an achievable, practical action plan to cater for their school community's changing needs and give you the tools to drive innovation and enhance the teaching and learning experience in your school...and much more!….take a look at our event agenda and click to join our waiting list for your

FREE

place today!
Can't attend ElevatED in person? Register for the link to join the event online via Google Meet!

Check out our full agenda below
Thursday 28th April
Registration:
9.30am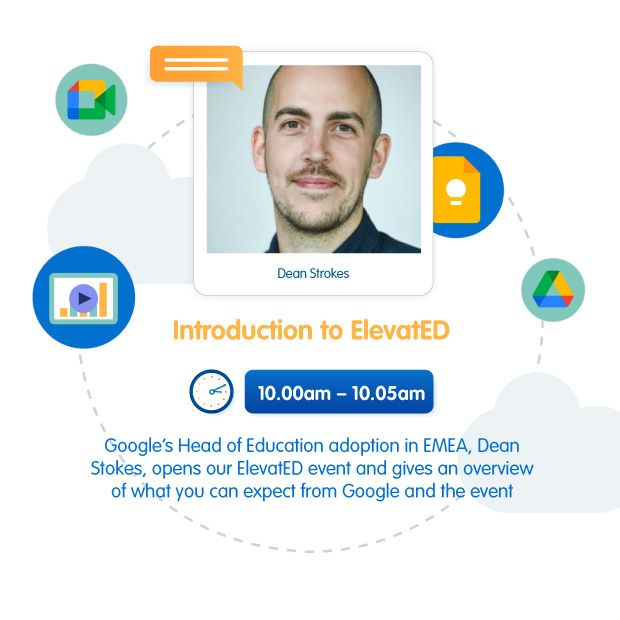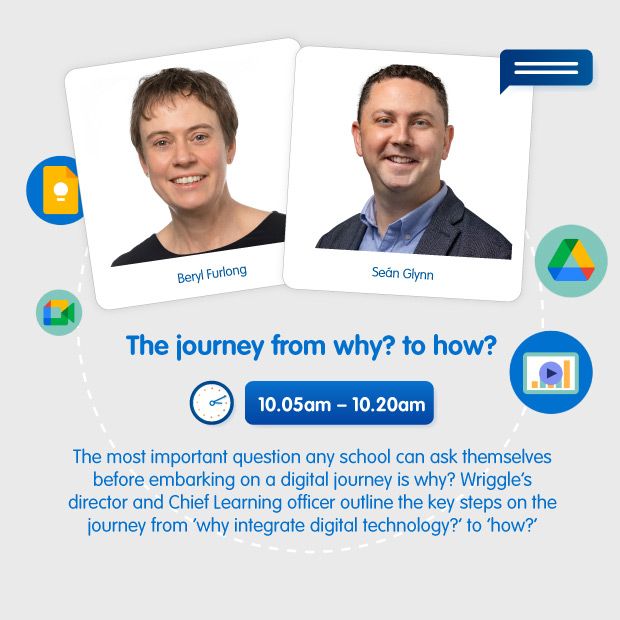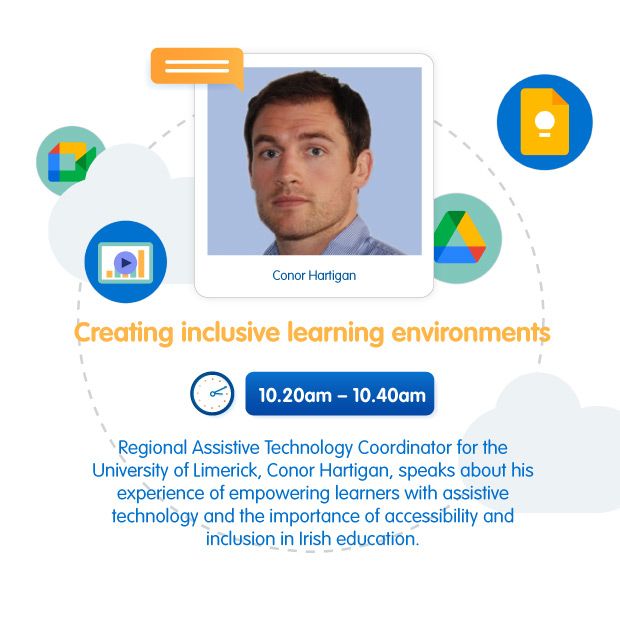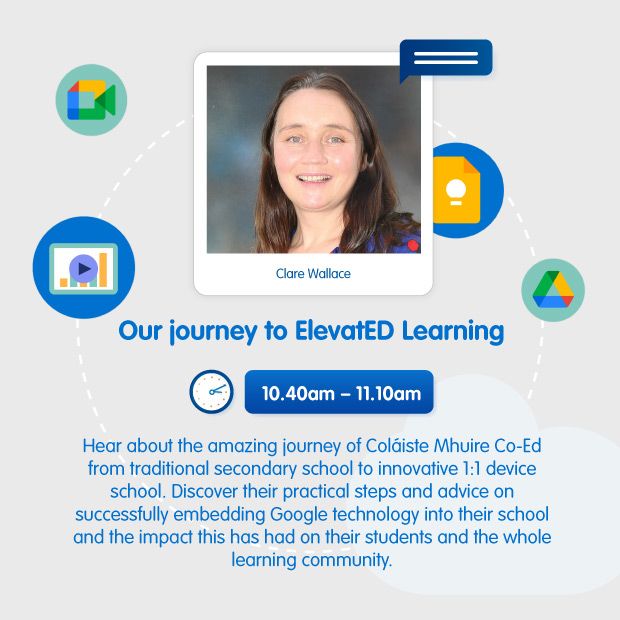 Coffee Break:
11
.10am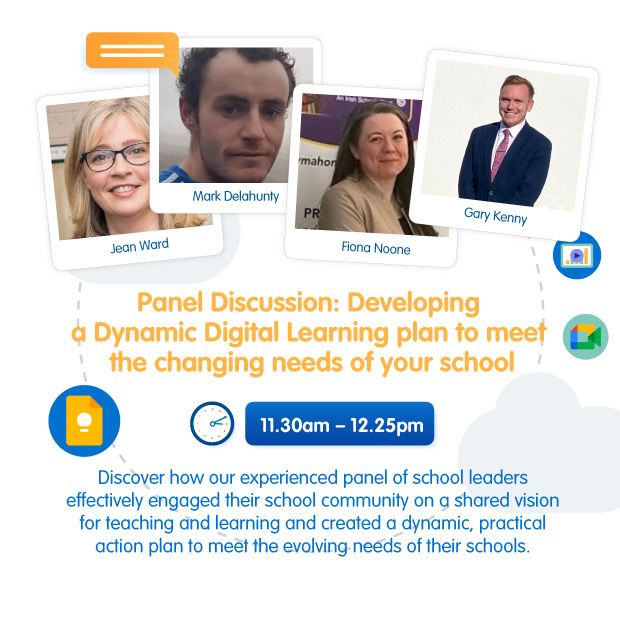 Workshops:
12.30pm
Secondary School Workshop
Primary School Workshop
EdTech Workshop:
1.25pm
Elevat-EDTech Workshop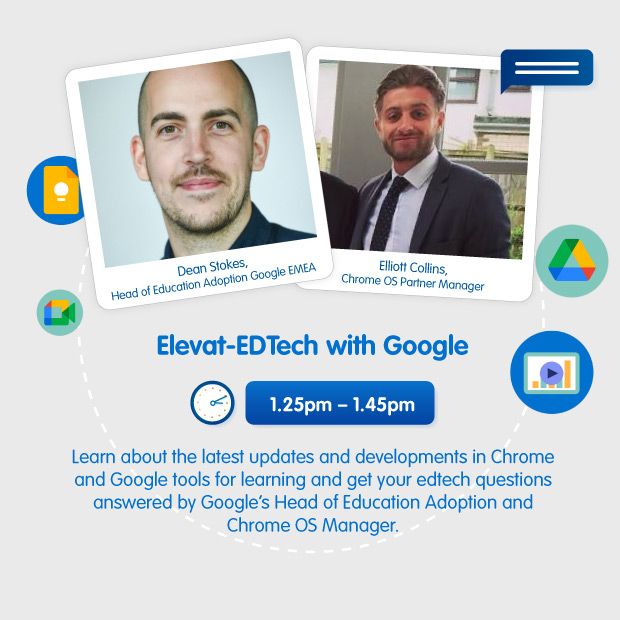 Lunch & Close:
1.45
pm

Or register for the link to join the event online via Google Meet!

Beryl Furlong
Director, Wriggle Learning
After 20 years experience in delivering learning solutions to businesses, schools and education centres, Beryl saw a need to develop a team of Edtech specialists, together with services and solutions, created by our on-staff teachers and tech experts, to meet the digital teaching and learning needs of our schools...and Wriggle was born. As Director of Wriggle, Beryl is really passionate about the impact technology can have on teachers, students and parents and has spent the past 10 years with the Wriggle team continually growing and developing Wriggle's solutions and services to meet the changing needs of the schools we work with.
Dean Stokes
Head of Education Adoption, Google EMEA
As Head of Education Adoption for Google in the EMEA region, Dean has vast experience of helping educational organisations to learn about the benefits of Google tools, devices and platforms and how to successfully intergrate these to transform teaching and learning.
Conor Hartigan
Regional Assistive Technology Co-ordinator
Conor is a certified accessibility professional and an accomplished Assistive Technology(AT) Co-ordinator & Trainer with extensive experience in AT/IT and a passion for supporting people with disabilities. He has vast experience training students with disabilities access education through assistive technologies, accessibility best practice and Universal Design for Learning(UDL) principles.
Clare Wallace
Deputy Principal, Coláiste Mhuire Co-Ed School
Clare Wallace is Deputy Principal in Coláiste Mhuire Co-Ed in Thurles Co. Tipperary. Clare holds a Masters in Educational Technology and prior to her appointment in Tipperary ETB had been ICT Coordinator in Rashid School for Boys in Dubai, Harrow International School in Beijing and Belvedere College in Dublin. She led the introduction of Virtual Learning Environments in all three schools. Clare has been working as part of the Google Inclusive Trainer initiative and was recently awarded Google Certified Trainer Status. Clare was also part of the Irish team for SELFIE.
Jean Ward
Deputy Principal, Malahide Community School
Jean is Deputy Principal of Malahide Community School, one of the first schools to move to a 1:1 student device model in Ireland. Jean has lead the integration and development of their school's 1:1 programme and digital journey. She is passionate about the importance of providing staff as well as students with the tools and training they need to be confident, engaged learners.
Mark Delahunty
ICT Coordinator, St Mary's NS
Mark is a primary school teacher in Kilkenny. Mark has 14 years experience in the classroom. Mark is a member of the digital learning team in his school and is an advocate for embedding digital technology in the classroom. Mark is a google certified level 1 and level 2 educator and has also completed a post graduate in school leadership. Mark is a firm believer that technology can be used to enhance student experience but it is the combination of pedagogy, content and technology that achieves this.
Fiona Noone
ICT Co-ordinator, Mercy Secondary School Ballymahon
Fiona is a teacher of Science and ICT in Mercy Ballymahon Secondary School and has over 20 years of experience in the classroom. She is also the SSE and ICT coordinator in the school. Fiona leads the school's ICT team and coordinated the successful application for a EU Digital Schools Award. Currently in their 9th year using 1:1 devices, the school uses the Google suite of Apps on Apple iPads to enhance teaching and learning. Fiona is committed to the use of ICT and Edutech to improve student attainment and increase accessibility for all students.
Gary Kenny
Deputy Principal, Mercy Secondary School Ballymahon
Gary Kenny is Deputy Principal of Mercy Secondary School, Ballymahon. He holds a Postgraduate Diploma in Educational Leadership and Management from NUI Maynooth where his group thesis researched "How leading the integration of VLE's (Virtual Learning Environment) with staff in schools can enhance teaching and learning through communication, collaboration and storage of resources''. Gary has keen interest in the use of Digital Technology in Education and is a member of the School's Digital Learning team where he is the primary contact with Wriggle Learning. His School have made huge progress in their digital learning journey and were recently awarded a 'European Digital School's award'.
Holly Murray
ICT Coordinator, Finn Valley College
Holly Murray is a post primary Geography & History teacher in Finn Valley College and an EAL advisor for the PDST. As a Google Certified Educator she is currently completing training to become a Google trainer. Holly is a Wriggle Connect Ambassador who has designed a number of the Google CPD courses on the Wriggle Connect platform. She is very passionate about the use of technology to enhance the learning in her classroom especially in terms of assistive technology to help students with dyslexia and our EAL students.
Eoghan O Neill
ICT Coordinator, Clane BNS
Eoghan is an assistant principal at Scoil Phádraig BNS in Clane, Co. Kildare. Leading digital technology use and integration in the school is one of his main responsibilities. Eoghan has a Masters in Education and has recently completed the Postgraduate Diploma in Educational Leadership and Management. His capstone project focused on a comparison of 'policy v practice' of the Digital Strategy for Schools, 2015-2020. Eoghan has authored a range of Google-orientated content for the Wriggle Connect and Wriggle Connect Family platforms. Eoghan is a Google Certified Level 1 and Level 2 Educator.
Seán Glynn
Chief Learning Officer, Wriggle Learning
Seán is a primary school teacher in Scoil Bhríde BNS, Dublin. He has an MSc in Learning and Technology from TCD as well as a Postgraduate Diploma in Educational Leadership & Management from Maynooth University. Seán is Chief Learning Officer for Wriggle Connect. He is also a certified Apple Professional Learning Specialist and Microsoft Expert Educator with a passion for digital transformation in education.
Jamie Johnston
Head of Educator Development, Wriggle Learning
Jamie is a primary school teacher who started his teaching career in Scotland and then the UAE. He played an integral part in Repton Abu Dhabi's adoption of technology in the classroom. Jamie has a passion for the impact technology can have on education and now works for Wriggle Learning as our Teacher Engagement Manager. Jamie is a certified Apple Professional Learning Specialist and Microsoft Innovative Educator.