DigiLearn is back!


Join us for our first DigiLearn event with Apple

9th March, the Aviva Stadium
DigiLearn is Ireland's leading practical, interactive, digital learning festival, designed to empower schools and colleges to transform teaching and learning. Hosted on the 9th March by Irish digital learning specialists, Wriggle Learning, in association with Apple, this DigiLearn event will provide a space to share best practice, tools and experience with guidance from Ireland's top educators and thought leaders. With live, in-person workshops focusing on positively impacting the student learning experience, reducing staff workload, successful digital planning in schools and colleges and more….take a look at our event agenda and reserve your
FREE
place today!
Book your place at our Apple DigiLearn event today!

Check out our full agenda below
Wednesday 9th March
Registration:
9.30am


Introduction Talk:

10am
Coffee Break:
11
.30am
Leadership Discussions:
11
.50am
Secondary School Panel Discussion
Primary School Leadership Talk
Workshops:
12.40pm
Secondary School Workshop
1:1 School Workshop
Primary School Workshop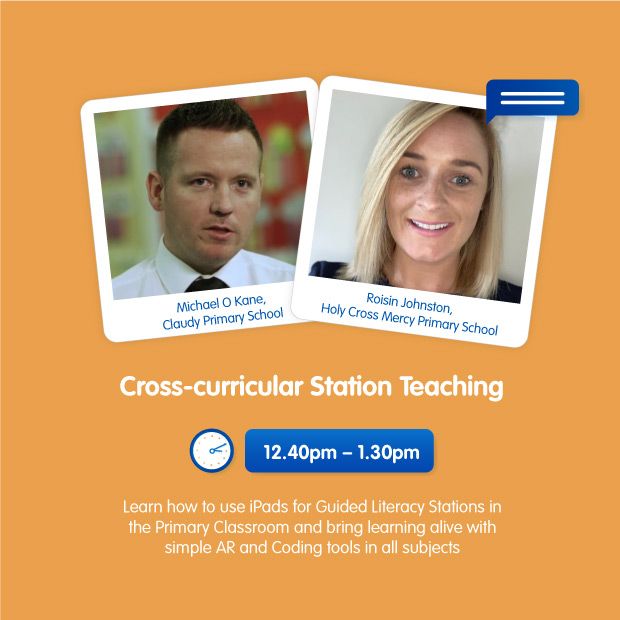 Lunch & Close:
1
.30pm

Sene Naoupu
Vice-captain, Irish National Women's Rugby team
Sene Naoupu is an international rugby player representing Ireland in Rugby 7's, 15's and Touch Rugby across nine World Series, four European Championships, and two World Cups. The double championship-winning captain with Leinster Rugby was selected to play for the record-breaking Barbarians three times. Sene has vice-captained Ireland for the last four years.  
Off the sporting field, Sene has led sport strategies for national governing bodies — both inside and outside rugby — Olympic federations and broadcasters. A champion of equal opportunity in sport and business, she also works with global brands to promote the visibility of women.
She is a board director for national voluntary organisation Bodywhys, and was named as one of Ireland's 30 Most Influential Women by the Irish Times and Ireland's Top 10 Unrelenting Sportswomen, as she continues to make a meaningful contribution to the game and the community around her. 
Beryl Furlong
Director, Wriggle Learning
After 20 years experience in delivering learning solutions to businesses, schools and education centres, Beryl saw a need to develop a team of Edtech specialists, together with services and solutions, created by our on-staff teachers and tech experts, to meet the digital teaching and learning needs of our schools...and Wriggle was born. As Director of Wriggle, Beryl is really passionate about the impact technology can have on teachers, students and parents and has spent the past 10 years with the Wriggle team continually growing and developing Wriggle's solutions and services to meet the changing needs of the schools we work with.
Éanna O Bradaigh
Business Development Manager, Apple
For 40 years, Apple has helped teachers unleash the creative potential in every student. As Apple's lead Business Manager for Education, Éanna Ó Brádaigh works closesly with Apple and Wriggle Learning to help school's make the most of Apple's powerful tools, resources and curricula created to enhance teaching and learning.
Lyndsey Balfe
Technology and Woodwork teacher and ICT Coordinator, Swords Community College
Lyndsey is the Digital Leader in Swords Community College, a 1:1 iPad school. She teaches subjects such as Wood Technology, Coding, Graphics and Applied Technology. She is an Apple Distinguished Educator, Apple Professional Learning specialist and a qualified carpenter. Lyndsey is an innovative and creative educator who is passionate about using technology to enhance learning in her classroom. She is particularly passionate about amplifying learner voice to ensure that all learners experience personalised learning through the use of technology.
Conor Maxwell
Maths, Science and Coding Teacher, Sandymount Park ETSS
Conor is a Mathematics, Science & Coding teacher in Sandymount Park Educate Together Secondary School. He is also the digital technologies coordinator and teaching and learning coordinator. Conor is a certified Microsoft Innovative Educator Expert and Apple Certified Teacher. He believes strongly that when used effectively in the classroom, technology can have a transformational impact on student learning.
Ingrid Fallon
Principal, Holy Family Community School
Ingrid Fallon is the Principal of Holy Family Community School in Rathcoole, Co. Dublin. Ingrid is leading the school's Digital Learning Plan and the school is now in year three of students having individual devices. The school uses Microsoft 365 and iPads to manage the school efficiently and to enhance teaching and learning. Ingrid has witnessed the transformative impact that technology has had on the school including the development and enhancement of collaborative practice, interactive teaching methodologies and enhanced differentiation.
Leona Harrington
Principal, Le Chéile Secondary School
Leona Harrington is Principal of Le Chéile Secondary School, a 1:1 device school where teachers create their own content and Apple technology is used to authentically connect all students to their learning, ensuring that the needs and learning styles of all are catered for whilst also promoting critical thinking and allowing students to take ownership of their own learning. Leona is deeply committed to harnessing the power of technology to redefine and transform the learning experience of the students. This is reflected in the symbiosis between technology, curriculum development and the school's learning spaces.
Michael McCarthy
Deputy Principal, Coláiste na Mí
Michael McCarthy is the Deputy Principal of Coláiste na Mí, Johnstown, Navan, Co Meath. Michael has been leading the school through the adoption of a 1:1 device model (iPad) in the school over the last number of years and managing the associated benefits and challenges. Issuing all teaching staff with personal iPads has resulted in greater flexibility and efficiencies and increased the use of student devices in the classroom. Michael is a strong advocate of the power of digital technologies to improve student attainment, engagement, creativity and enhance student voice. As a school, Coláiste na Mí uses the Microsoft 365 suite of products and manages JAMF and Apple School Manager in-house which facilitates greater flexibility for both students and staff.
Georgina O Mahony
Teacher and ICT Coordinator, Mount Anville
Georgina is a learning technologist based in Mount Anville Secondary School, Dublin 14. She has previously taught Biology and Computer Science at 2nd and 3rd level and now works with both staff and students to develop and implement their school's digital strategy. She is particularly interested in the use of technology to enhance teaching practice and to make learning inclusive for all learners.
Michael O Kane
Principal, St Colmcille's Primary School, Claudy
Michael is headmaster of St. Colmcille's Primary School and Nursery in Claudy, Co. Derry. He is an Apple Distinguished Educator and Apple Professional Learning Specialist and has authored a number of books on coding in the classroom. He is passionate about ensuring that teachers are supported as much as possible when integrating technology into teaching and learning.
Róisín Johnston
Teacher and ICT Coordinator, Holy Cross Mercy Primary School
Róisín Johnston is primary school teacher and Digital Coordinator at Holy Cross Mercy Primary School in Killarney in Co Kerry as well as manager of Kerry Regional Training Centre. She is an Apple Distinguished Educator and a Seesaw Certified Educator. Róisín loves to share her knowledge and show other teachers how they can use digital technologies to enhance teaching and learning in their classrooms.
Seán Glynn
Chief Learning Officer, Wriggle Learning
Seán is a primary school teacher in Scoil Bhríde BNS, Dublin. He has an MSc in Learning and Technology from TCD as well as a Postgraduate Diploma in Educational Leadership & Management from Maynooth University. Seán is Chief Learning Officer for Wriggle Connect. He is also a certified Apple Professional Learning Specialist and Microsoft Expert Educator with a passion for digital transformation in education.
Jamie Johnston
Head of Educator Development, Wriggle Learning
Jamie is a primary school teacher who started his teaching career in Scotland and then the UAE. He played an integral part in Repton Abu Dhabi's adoption of technology in the classroom. Jamie has a passion for the impact technology can have on education and now works for Wriggle Learning as our Teacher Engagement Manager. Jamie is a certified Apple Professional Learning Specialist and Microsoft Innovative Educator.