by Róisín Johnston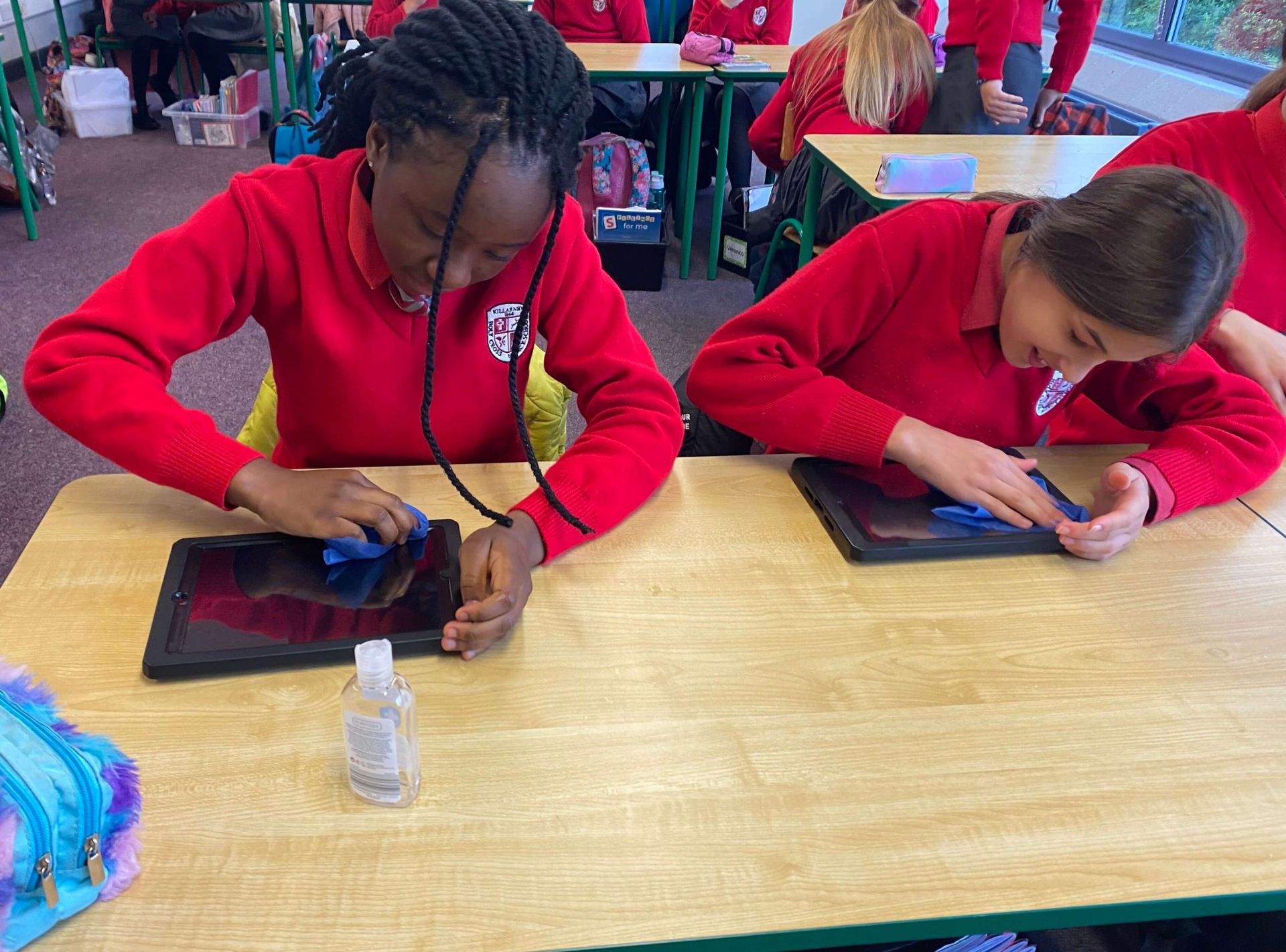 Hygiene and safety routines are now vital in every school and it is important to teach the students the proper rules and cleanliness routines around using shared iPads in class. With 4 years' experience sharing iPads in Holy Cross Mercy National School, I've pulled together some of our top tools and tips on sharing iPads safely in the classroom during the 'new normal'.
So you've bought a class set of iPads…what next? An important consideration to factor in is how to distribute the iPads in order to maximise the positive impact on teaching and learning and minimize contact with multiple small hands on any given day.


One way of doing this is to create a timetable for the iPads and move the set around to each class. Classes could have the class set of iPads one day a week or for a full week on a rotation basis. Another option is to share the iPads between your classes evenly so that every class has access to them every day. So for example, if you have thirty iPads and five classes, each class gets six iPads to keep in their rooms at all times. You then simply assign an iPad per pod in your classroom.

In order for either system to work effectively, I strongly advise numbering your iPads from 1-30 so each student or Pod knows which iPad is theirs (We use coloured stickers or personalised wallpapers on the iPad to do this).
Ensuring your Teachers are Prepared
In my experience, before ever giving students iPads, it is important that teachers become familiar with the iPad apps especially the iWork suite of Apps - Keynote, Pages and Numbers before using them with your students. If you are new to using iPads, the Apple Teacher Learning Centre is a free, self-paced professional learning programme, to build skills on iPad devices that directly apply to activities with students. Another great place to start is to sign up to a workshop at your local Apple Regional Training Centre or check out the courses in the iPad Learning Pathway on Wriggle Connect.
Maintaining Good Hygiene with Shared iPads
This year, due to Covid-19, we have assigned an iPad to each pod in the classroom, so one iPad to every four children. As well as this, we have implemented a number of hygiene routines:
•We teach the students to sanitise their hands before and after use of the iPads.
•Students in our school purchased a stylus each to allow them to use the Markup tools. This has the great benefit of minimising direct contact between students' hands and the iPad.
•The iPads and digital stylus pens are also wiped clean with 70 percent isopropyl alcohol wipe or Clorox Disinfecting Wipes after every use and all iPads and chargers are sanitised at the end of the day. Children also are taught to wipe down the iPads and tables before and after use. Wriggle stock an approved device sanitiser spray which can be used on the iPads also.


For more information on cleaning your Apple products visit
Apple Support
.
Top Tools to help with teaching and learning in the socially distant classroom
Airdrop
Airdrop is a powerful tool that can be used on shared iPads in the classroom which makes sharing content with students in the classroom easier than ever. Airdrop allows you to receive and share photos, documents, websites and more with other Apple devices nearby. Students can send pictures or screenshots of written work to their teachers' iPad to be assessed. The teacher can then send the corrected work back to the students via Airdrop, all from a safe social distance!


Apple TV
Apple TV is another great way of giving feedback to students and keeping them engaged and on track. You can mirror any student's iPad screen to your TV monitor or projector once Apple TV is connected. This is a great way to highlight student work, encourage collaboration, and keep everyone involved. Students can show and explain their progress or thoughts on a task without having to leave their seat.
Students can use Airplay to share their work with the class while in progress and when completed. The iPad can also be used as a visualizer, allowing teachers to move around the room and show children's work. This can enable students to become teachers, reflecting on a piece of artwork or explaining how to solve a Maths problem.


The Camera App
The Camera app on the iPad is one or the most powerful tools to help manage the socially distance classroom. Teach students how to use the camera app to take a good photo.
Show them how to crop photos, take screenshots, capture, share and document learning in images or video. Then make a regular practice of getting students to take pictures of their work using the camera app and upload it to their digital portfolio on Seesaw or your school's Virtual Learning Environment.


Notes
As It is not possible to regularly take up students' copybooks in the current circumstances, the Notes app has become an even more useful tool in my classroom. Students can easily use Notes as a digital notebook, typing or using the mark up tool to brainstorm topics, plan stories, capture quick thoughts, create checklists, sketch ideas and organise their learning resources. They can also add text, drawings, photos or files to their note. It is a great way of documenting student observations, scanning a homework assignment and managing to-do lists. Students can share these notes with their teacher or with other students very simply once completed using Airdrop or by uploading them to Seesaw.


Seesaw
Seesaw is a digital portfolio where students can upload, publish and store their work. Teachers can also assign work to students that they have created themselves or by selecting and editing an activity from the huge library available within the app.
Students can upload a photo, read an ebook, watch a video made by their teacher on the new lesson concept, complete a Seesaw activity from the activity library, make a video, or use the in-built tools within Seesaw such as audio, draw, photo, etc. to respond to the task in school or from home.


There are multiple options available to teachers to give feedback to students within Seesaw Including the option to send work back with comments before the final draft is uploaded into their digital portfolio. As a Seesaw Ambassador, I highly recommend using Seesaw as a digital learning portfolio or virtual learning platform. I have created a Seesaw Learning Pathway on the Wriggle Connect platform to help teachers make the most of this brilliant app in the classroom.
Follow us on social media for the latest blogs and webinars
About the Author
Róisín Johnston
Róisín Johnston is teacher and Digital Coordinator at Holy Cross Mercy Primary School in Killarney in Co Kerry as well as manager of Kerry Regional Training Centre. She is an Apple Distinguished Educator, Apple Teacher, and Seesaw Ambassador and loves to share her knowledge and show other teachers how they can use digital technologies to enhance teaching and learning in their classrooms.
As a Wriggle Connect Ambassador, Róisín created the 'Seesaw for iPad' and 'Keynote for
iPad' teacher training courses on the Wriggle Connect Platform, Ireland's ONLY Educator Professional Development Platform – Developed by Educators for Educators.