by Paul Cahillane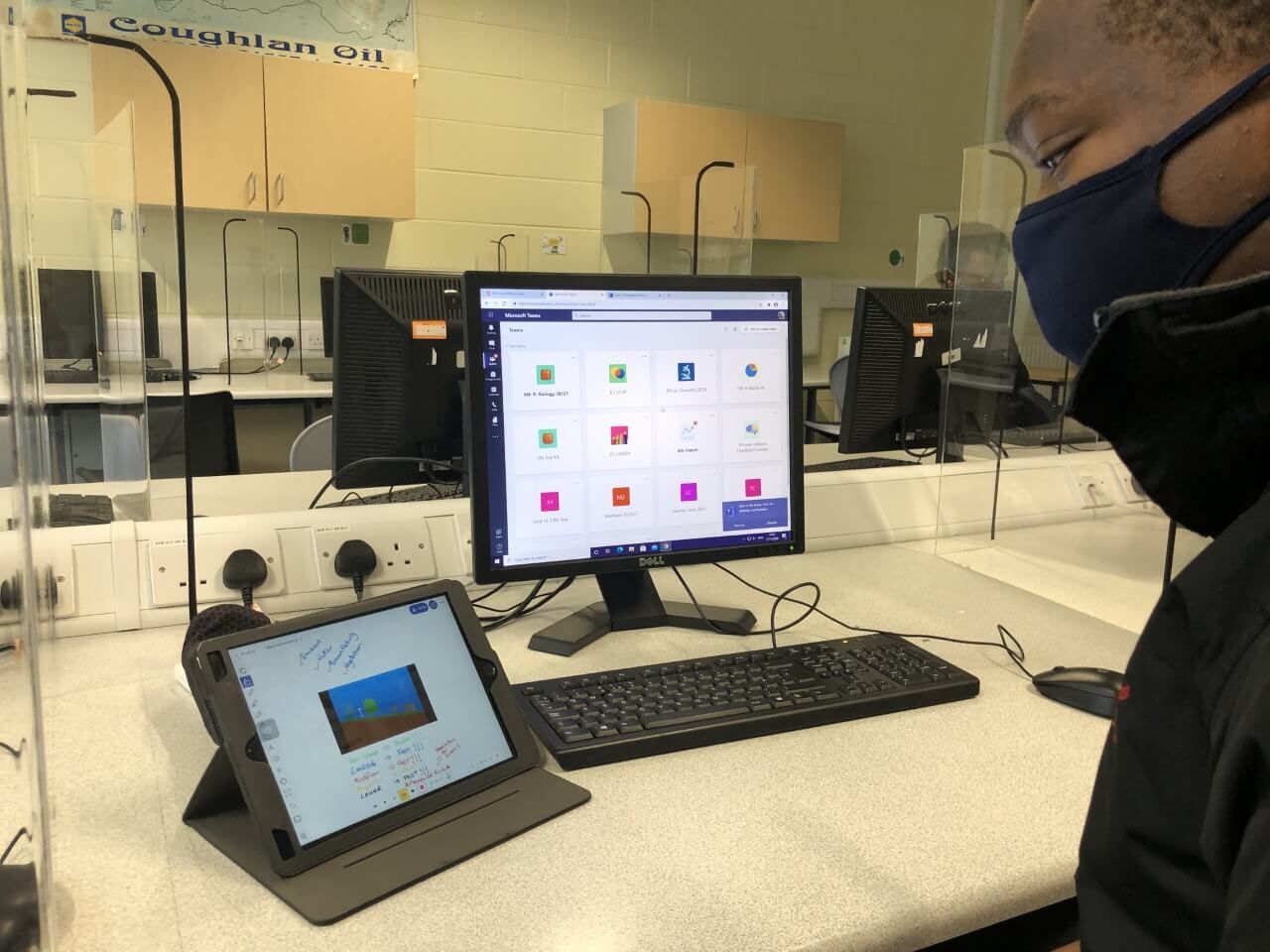 In the current climate, it is inevitable that at some point teachers will have to teach both in-class and online to ensure that students who are learning from home can participate in lessons with the rest of the class. In this blog, I explore some useful tools and methods I use to maximise the teaching and learning that takes place during a period of remote learning.
One Whole-School Learning Platform

During remote learning in particular, it is important that all teachers, students and parents use the same online school learning platform throughout the school. This creates habit, familiarity and confidence in using the platform for both parents and students and it helps build relationships with your students through routine. The whole-school platform we use in St. Mary's CBS, Portlaoise is Microsoft Teams.

Teams is a digital hub that brings conversations, content and assignments together in one place, letting educators create vibrant, interactive learning environments. Students and educators can stay in touch and collaborate using conversations, and the option of using live meetings and breakout rooms makes lessons feel more like a normal classroom setting for students.

Educators can easily track student progress in their daily work using Assignment and, just like in a classroom, they can use the apps and functions of Teams to support and engage all learners. I find screen recording an element of the lesson, (either teacher or student created content) and uploading it to our Teams class is extremely beneficial for students to help to reinforce the learning that took place in the class that day. This way, teachers can create a bank of revision videos that students can have access to at the end of each term or year.
Want FREE access to our online training for educators?
Book a FREE Demo of Wriggle Connect Online Training Today!
Flipped Classroom
When looking to effectively promote student-led learning to engage students in a meaningful way through remote learning, the Flipped Classroom approach is one I highly recommend. Through our Flipped Classroom approach, we ask students to research and create their own content related to a chosen topic and incorporate a plan for how they would use assessment.
When discussing Earthquakes for example, students in my class created a video using the Explain Everything App, on how the Japanese Tsunami of 2011 occurred, and compared the Environmental, Economic and Social impacts with the Indian Ocean Tsunami of 2004. Then using PowerPoint the students embedded this video into the presentation and included assessment questions on the next slide to assess students learning.

By using a combination of Microsoft Teams, Word, PowerPoint and Forms, the Camera App and Explain Everything, you can offer students the chance to become the educators, deepening their own learning and allowing their classmates to learn from a different perspective than just the teacher. After the Flipped lesson, students are then given the space to offer feedback through a 'peer review' system to facilitate reflection, assessment and improvement of the process.
Want FREE access to our online training for educators?
Book a FREE Demo of Wriggle Connect Online Training Today!
Provide Effective Feedback and Encourage Reflection
Microsoft Teams and Forms offer numerous effective feedback options which I believe is one of the main drivers in promoting learning. Self-reflection also provides a greater scope for self-improvement. Teams offers educators the option to give written or text-based feedback or to ink over handwritten or text-based assignments students have submitted. It also gives educators the option to give oral feedback by attaching voice notes or screen record clips offering positive and constructive feedback for students. To compliment these feedback methods, educators can gain feedback from the students by creating and issuing Microsoft Forms or surveys (similar to the one above) to gauge the students' reaction to how the lesson went or to gauge the level of engagement as a result of the lesson. This feedback is hugely valuable in developing the teaching and learning taking place in the classroom. In utilising some or all of these methods, teaching and learning in the remote learning environment will go from strength to strength!

Top Tip: Check out my 'Microsoft Word for iPad' Learning Pathway on the Wriggle Connect Platform for handy ways to enhance the layout of your Flipped Classroom approach. Linked to this, check out my colleagues' 'Microsoft Teams' and 'Microsoft Forms' Learning Pathways to learn more about creating assessment surveys and offering feedback opportunities to students. When you do, follow it up with internal staff workshops to help develop the professional capacity among your staff!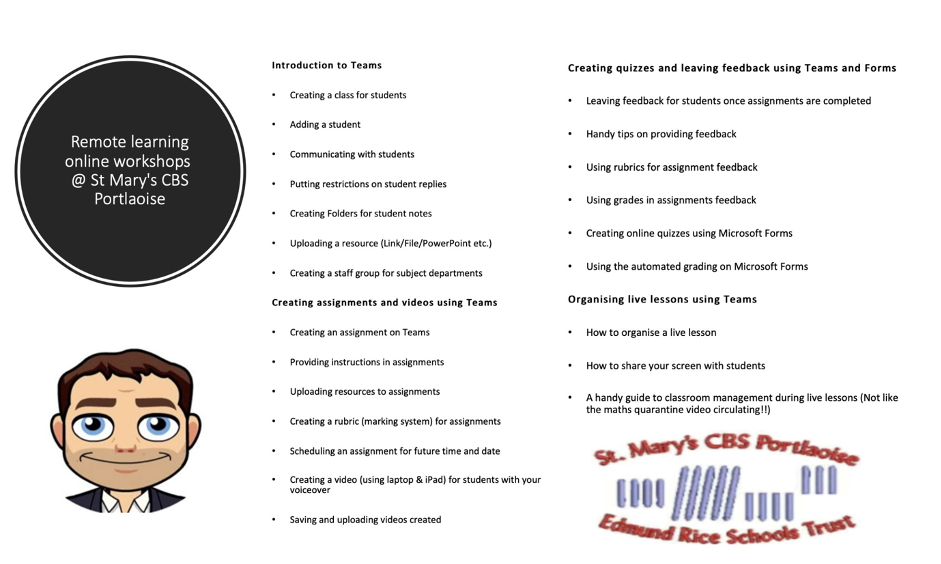 Want FREE access to our online training for educators?
Book a FREE Demo of Wriggle Connect Online Training Today!
Follow us on social media for the latest blogs and webinars
About the Author
Paul Cahillane
Paul Cahillane is a teacher of Geography & LCVP. He is the ICT & Staff Development Co Ordinator in St. Marys CBS Portlaoise, and is a Microsoft Innovative Educator Expert and Microsoft Innovative Educator Master Trainer. Paul is a technology in education advocate, committed to life-long learning. He is passionate about facilitating student-led learning and engagement and educational change.
As a Wriggle Connect Ambassador, Paul has created the 'Microsoft Word on iPad' and 'Microsoft Stream on iPad' Learning Pathways on the Wriggle Connect Platform, Ireland's ONLY Educator Professional Learning Platform – Developed by Educators for Educators.
To learn more about the courses Paul has created on the Wriggle Connect Platform, click on the
courses
section if you have a Wriggle Connect account, or
sign up for a FREE 14 day sample training course
on the Wriggle Connect platform today!