by Jamie Johnston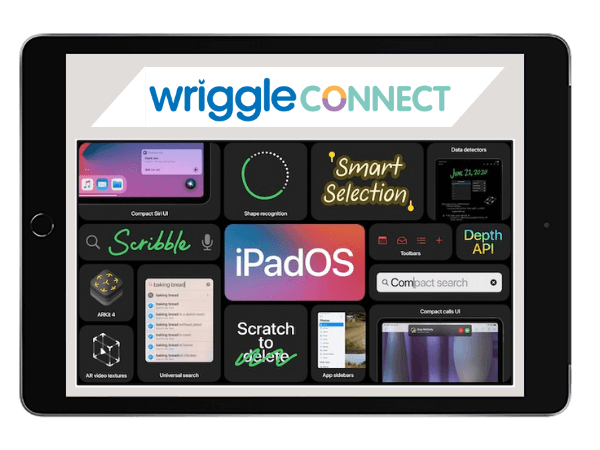 From my experience using iPad in the classroom and training educators around the country, I know that Apple design their devices to enhance the user experience and make creative and independent learning easier, and iOS 14 and iPadOS 14 are no exception. The
iPadOS updates
, including new features like Scribble, are set to make teaching and learning with iPad even more seamless than before.
Scribble
From writing on the board to giving feedback to students in their copybooks, as a teacher, my handwriting has always been an issue, which is one of the many reasons I'm so excited about Scribble. Scribble literally gives teachers and students the ability to turn written text into typed text instantly.
For me the iPad was never supposed to be a device that relied on heavy keyboard use – certainly not in education. It is best when it is unleashing creative potential i.e. when students have an iPad in their hand and are actively engaging with knowledge construction. Scribble – like the dictate button – allows for the learning to remain in flow and not be encumbered by the on-screen keyboard.
Scribble efficiency is off the charts!
Picture the scene; a teacher is walking around their classroom, has iPad in one hand and
Apple Pencil
in another and is able to keep the learning going in a variety of ways:
- In Maps, a Geography teacher can write 'Cliffs of Moher' into the search field and be taken straight to that location.
- A teacher is reading her email and suddenly needs to create a reminder to follow up with a student about his most recent essay. She can now write that reminder in the Reminders app.
- A dyslexic student with poor handwriting can take sketch notes during class and very important labels can be written in text.
Check out this minute-long demo of Scribble, or if you're looking for more ideas or step by step Scribble instructions, check out our new iPadOS 14 course videos on the Wriggle Connect platform.
Smart Selection
Smart Selection allows you to highlight written text, copy as text and then paste it anywhere you want on your iPad or another Apple device using
Handoff
. Imagine how useful this would be in these scenarios:
- A student is taking notes in a biology lesson and wants to quickly Google Mitochondria. She can highlight the word Mitochondria, copy as text and then paste it into a Google search. See Smart Selection in action with this short demo.
- Teachers in the history department have just finished a planning meeting and you were the one taking notes. You can now easily transfer your written notes into a lesson plan document and share it with your colleagues without having to 'type it up neatly' first.
Shape Recognition
And as if this wasn't enough, Apple threw in very elegant ways to make perfect shapes on iPad. Click below to view a short demo on Shape Recognition.
Scribble, Smart Selection and Shape recognition are all demonstrated in our iPad tutorials on Wriggle Connect as they are features that I see making students and teachers use of iPad more efficient and accessible. In short, make everyone's life easier and who doesn't need a bit of that in their life!
Updates to Siri
Siri is like a personal digital assistant for the iPad user. You can use her to find files, access the internet, open apps or even ask knowledge questions. Up until now if you wished to use Siri, the whole iPad screen was compromised, which is the real life personal assistant equivalent of looking away from the task at hand, poking your head above the parapet of the classroom and shouting to your assistant when you need something. Now Siri doesn't take your out of the app you are working in, instead it just pops up as a sentient sphere in the bottom right hand of your screen.
Siri can be used to support students in any number of ways, for example, quickly convert Euros to Dollars or find a presentation on the Egyptians they can't quite figure where they stored it. In the 'new normal' of blended and remote learning Siri can help students be more self-sufficient and resilient.
Widgets
In iOS14, you can now Stack your most used widgets on top of each other keeping all your widgets visible and accessible without the home screen feeling cluttered. This video on Widget Stacks is a snippet from our new iPadOS 14 course on Wriggle Connect.
Search
You have always been able to search on iPad but now search doesn't take over the whole home screen. If you happen to use a Bluetooth keyboard you can use command + space to get the search to appear when you are in an app allowing for better focus on the task at hand. I even discovered that you can drag a file into an email as an attachment! Click below to see a demo.
App design
The iPad is more like a computer than ever and you would be forgiven for thinking the new look Files app was a finder window on the Mac. The two biggest changes include the Sidebar (navigation) menu and the toolbar icon (4 squares). The toolbar is a very handy way of organising the way you view and sort your files, just like you can do on Mac.
This means for apps such as Files, Pages, Keynote, and Numbers, they have got a bit more intuitive and easier on the eye. Notes and Calendar, don't have exactly the same sidebar but got face lifts that make the app feel more natural to use. The addition of a sidebar in Photos is a welcome one and probably the biggest overhaul to bring the app in line with the other key Apple apps. It's just a better user experience with faster access to options and controls you would normally have to go hunting for.


CONCLUSION
Just like James Van Fleet I'm not one to evangelise the latest technology update unless I can see a significant update in my experience. This year's Apple iPadOS update brings our iPad experience to a new level of efficiency, ease and accessibility.
Follow us on social media for the latest blogs and webinars
About the Author
Jamie Johnston
Jamie is a primary school teacher who started his teaching career in Scotland and then the UAE. He played an integral part in Repton Abu Dhabi's adoption of technology in the classroom and is a certified Apple Professional Learning Specialist. Jamie has a passion for the impact technology can have on education and works for Wriggle Learning as Head of Educator Development.
As a Wriggle Connect Ambassador, Jamie has created many courses including the 'iPad Essentials' and 'OneNote for iPad' teacher training courses on the Wriggle Connect Platform, Ireland's ONLY Educator Professional Development Platform – Developed by Educators for Educators.