Google Forms
is one of the best free apps available to teachers. Not only does it have the potential to make learning more meaningful it also can be used to simplify the process of teaching.
Google Forms has been a revelation in my classroom and has transformed many areas of my teaching. Organisation, assessment, and information gathering can all be streamlined using this wonderful tool from Google. Google forms integrates seamlessly with other apps such as Google Sheets, Google Classroom and Google Sites.
Embedding a google form on your google site can be done with the click of a button. Google forms can be used in the classroom, across the school and across the community.
In this blog I will outline 4 different ways Google Forms can be used in the classroom.
Creating Surveys
Whether it be for School Self Evaluation, student self-evaluation or suggested meeting times, all thoughts and ideas can be gathered using google forms.
I use google forms for different surveys throughout the year, for example:
Beginning of the year parent survey. Gather important information such as contact details, individual student needs etc.
End of unit student surveys. Promotes student voice in the classroom and allows students to reflect on their own learning.
Homework Tracker. Google forms is a great way to track missing assignments and the reasons for them.


A real time saver is the built-in feature where google at the click of a button will create a Google Sheet with all the information displayed on the one page. Teachers can very quickly analyse the data and make informed decisions that will benefit both students and teachers.

Watch the short tutorial below on how to make a Survey to gather feedback.
Quizzes/ Assessment
By creating a Google Forms quiz you can use the 'self-grading' feature of Google Forms.

When the students complete the quiz, their scores are automatically calculated, which has massively cut down on grading time in the classroom. This feature is ideal for vocabulary tests, multiple choice quizzes and even comprehension tests.

The teacher also has the option to review the grade before sending it to students. The results can also be compiled into a Google Sheet at the click of a button. The endless pile of copybooks has suddenly been dramatically reduced.

For a tutorial on how to create quiz, see below.
Self-Assessment/ Branching
Google Forms are a great way to promote self-assessment in the classroom and give students' responsibility for their own learning.

Branching adds another level to self-assessment and add differentiation to your google forms. By using the sections feature when creating your google form you can direct students to tutorials or extra information if they get the wrong answer or are looking for extra help. For example, you create the Google Form below for self-assessment.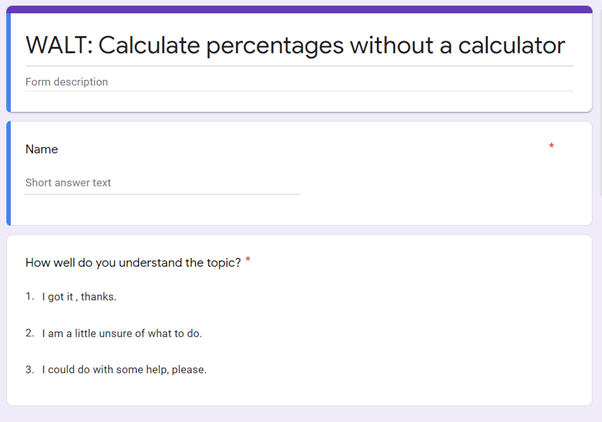 When a student clicks on the option that they need extra help or they are a little unsure in it brings them to a new section that contains a tutorial video.
Digital Escape Rooms
Students love been challenged. Google forms can be used to create a digital escape room that students need to use their knowledge to crack the code and escape the room.

By using the sections feature in Google Forms you can lock students' progress. Unless they submit the right answer or code they cannot progress onto the next section of the form and ultimately "escape the room".

While the initial form takes time to create, the form can be used repeatedly by just making a copy of the form. Your original escape room can also be used as a template for other topics, just remember to change the code! It is a brilliant way to assess students in a fun and meaningful way.


The Forms can be repeatedly used across grades and classes. All you need to do is either make a copy of the form or clear responses once you are finished with the data or have it saved in a google sheet. By embracing the use of Google Forms in the classroom I have saved time, been enabled to collect more data and become more organised, all of which have had a positive effect on the learning experiences of my students.
Additional Resources on Using Google Features
Stay Social and Join the Conversation Online!
About the Author
Mark Delahunty
Mark is a primary school teacher from Kilkenny who has been teaching for the past 13 years in Saint Mary's National School in Thomastown. He is a certified Google educator with a postgraduate in education and leadership. Mark has a real passion for ICT in education and believes that when used correctly it has an enormous benefit in enhancing learning for both students and teachers.