by Paul Cahillane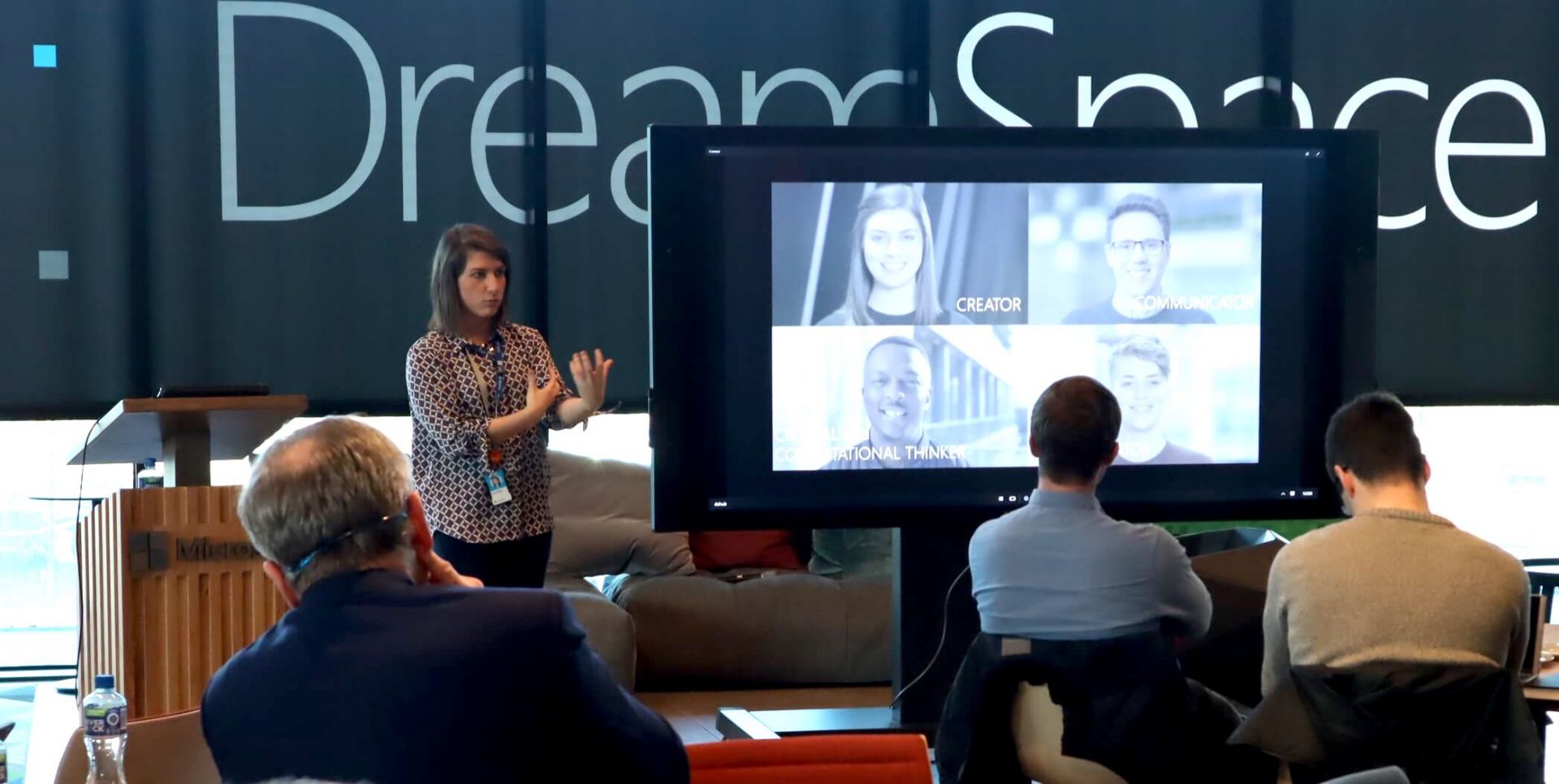 "We are now on the cusp of the fourth industrial revolution. Over 70% of school pupils today will end up working in jobs that do not exist yet."

Amanda Joliffe, Dream Space Lead.

As I sat in attendance at a Microsoft Edu Day conference I remember thinking…wow! This is a game changing changer, and I want to be a part of this. I wanted to help students realise the full potential of what they could achieve in Industry 4.0! Fast forward two months and I sat in our schools meeting room on the cusp of the beginning of our schools Digital Learning Strategy journey.

1. Start with your 'Why?'

The key aspect of the strategy we were looking to implement was why we wanted to do it, and not just because it was a requirement under the Digital Strategy for Schools 2015-20 or because it gives schools the opportunity for future grant allocations!

In St Mary's CBS Portlaoise, our why was that we wanted to to transform the learning experience of our students.

To do this we started with our staff by helping our them build their digital capacity and use it to empower other teachers to become more confident, passionate users of digital technologies.

We also wanted to ensure that we equipped our students with the tools they needed to support them in their future careers, strengthen their lifelong prospects and create the world of tomorrow.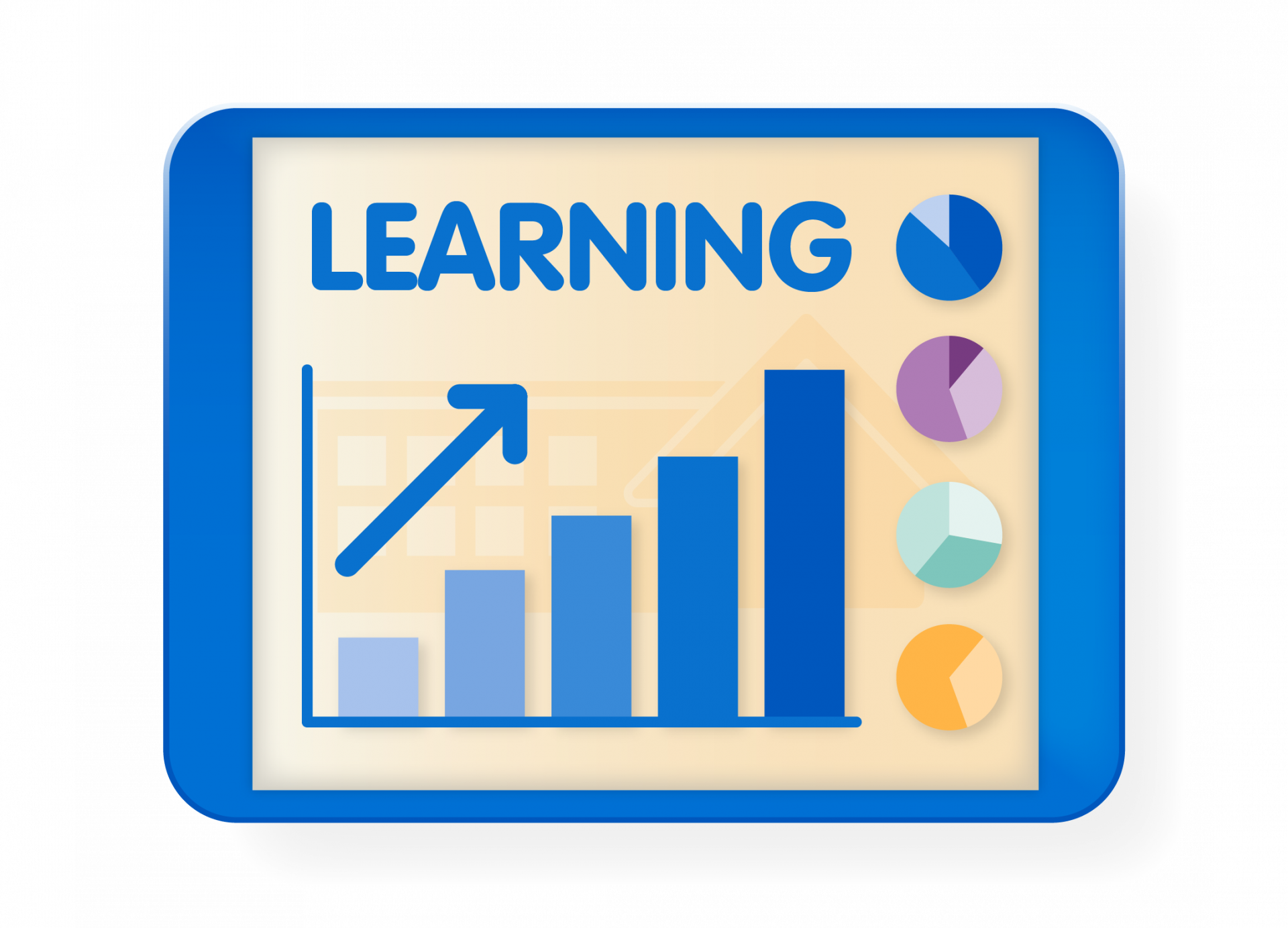 2. Building relationships through your Core Team

For us it was important to build a core team of enthusiastic leaders, so we started by contacting staff members to say we were organising a Digital Learning Team with a view to creating a Digital Learning Strategy, which helped us assemble a team comprised of 10 school educators.

Another key element of this was having a senior management team which backed the vision we had for the digital learning strategy both financially and by getting involved themselves in the process.

School leaders should not underestimate the importance of showing this kind of investment when trying to devise and implement a new strategy like this. I would say it was the single most important component in bringing our digital learning framework to fruition. Once the team saw the trust which was placed in their hands, the process only accelerated.

The team then undertook a digital learning evaluation in our school and selected specific domains and standards from the Digital Learning Strategy for Schools 2015-2020 to focus on based on this evaluation.

We selected:

Domain 4: Teachers Collective and Collaborative Practice based on the Teaching and Learning dimension

while focusing on:

'Teachers value and engage in professional development and professional collaboration'

'Teachers contribute to building whole-staff capacity by sharing their expertise.'

As a team, we then used the gathered input from staff through our Microsoft Forms surveys which highlighted the areas that they felt needed improvement. Depending on the school, these areas will vary. We then highlighted Microsoft Teams, Microsoft OneDrive and Microsoft Forms as our primary areas of focus for building teacher collaboration and communication.
3. Walk the Talk - Internal CPD

Next we created a team of champions within the team who had specific expertise on particular areas of the Microsoft Office 365 Education suite. This squad were awesome.

They upskilled by taking on external CPD sessions, searching 'how to' YouTube videos and called on favours from educators from other school communities to help in building their capacity. They would then bring back their learning to the team and share their expertise on how we could improve in relevant areas. Once the team felt they were ready, they provided professional development training to the rest of our staff. We wanted to encourage staff members to help develop their teaching and learning capacity and develop their leadership capacity. We created timetables of workshops staff could sign up to at various levels focusing on the core apps we were using and giving staff the opportunity to see real life examples and answers to questions they may have had, specific to how it would work relative to their subject and our school. Staff members could also lean on these teachers during the year with any query about the area they championed!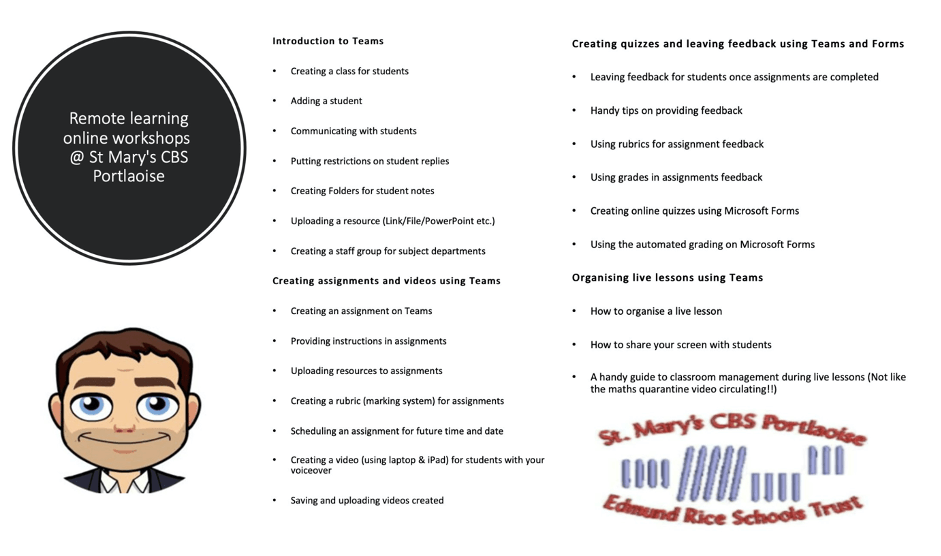 As part of our commitment to School Self Evaluation and Effective use of Digital Technologies, our school engaged with the Digital Learning Framework. In doing so, our practices were complementary to our main school SSE focus at the time on 'Teaching and Learning', through a digital lens.

We then set some targets and created an action plan to assign roles of responsibility among the team. This way it was easy to get future reports back on different areas of the plan to see how the strategy was impacting the school community.

4. Ready, Set, Communicate

Once we had all the pieces in place, we implemented a role out of our plan. A key component here was meeting with each of the subject department for guidance on how they could implement elements of the framework in their planning. We encouraged departments to be innovative in their ideas and not to worry about something not working!

Through Microsoft Teams each department communicated and collaborated with one another striving for new ideas and improving the old methods for teaching, learning, engagement and assessments across the board.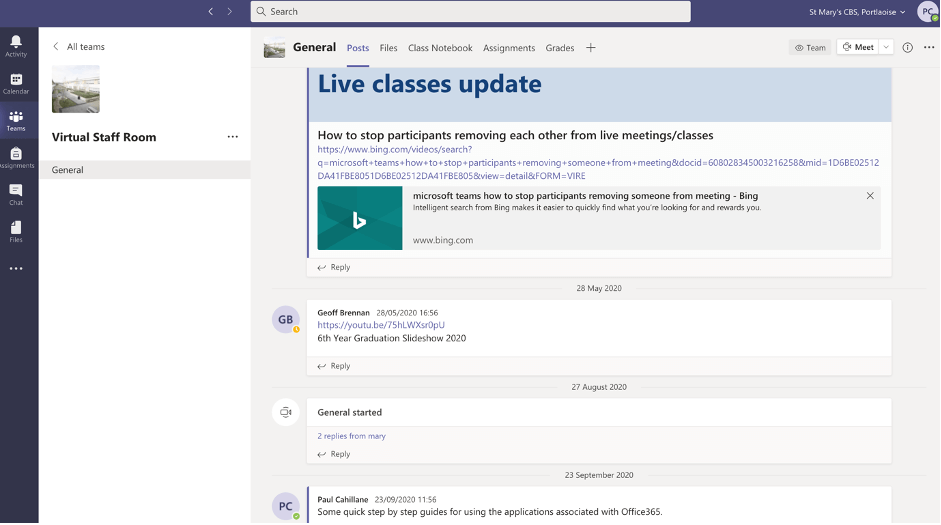 WANT FREE ACCESS TO ONLINE TRAINING FOR REMOTE LEARNING FOR EDUCATORS?
Book a FREE Demo of Wriggle Connect Online Training Today!
We also communicated our plan with the wider community through our school website and school app. We felt engaging with the wider community throughout this process was essential.

School websites, school apps and social media platforms are all useful platforms to communicate with staff and the wider community on the roll out of the strategy. Linked to this, they are a brilliant way to collect student and parental feedback when looking for different perspectives on the success of the strategy. We created Forms surveys and posted them out to parents and students through our school app and used the feedback in numerous ways to refocus our strategy and improve our efficiency.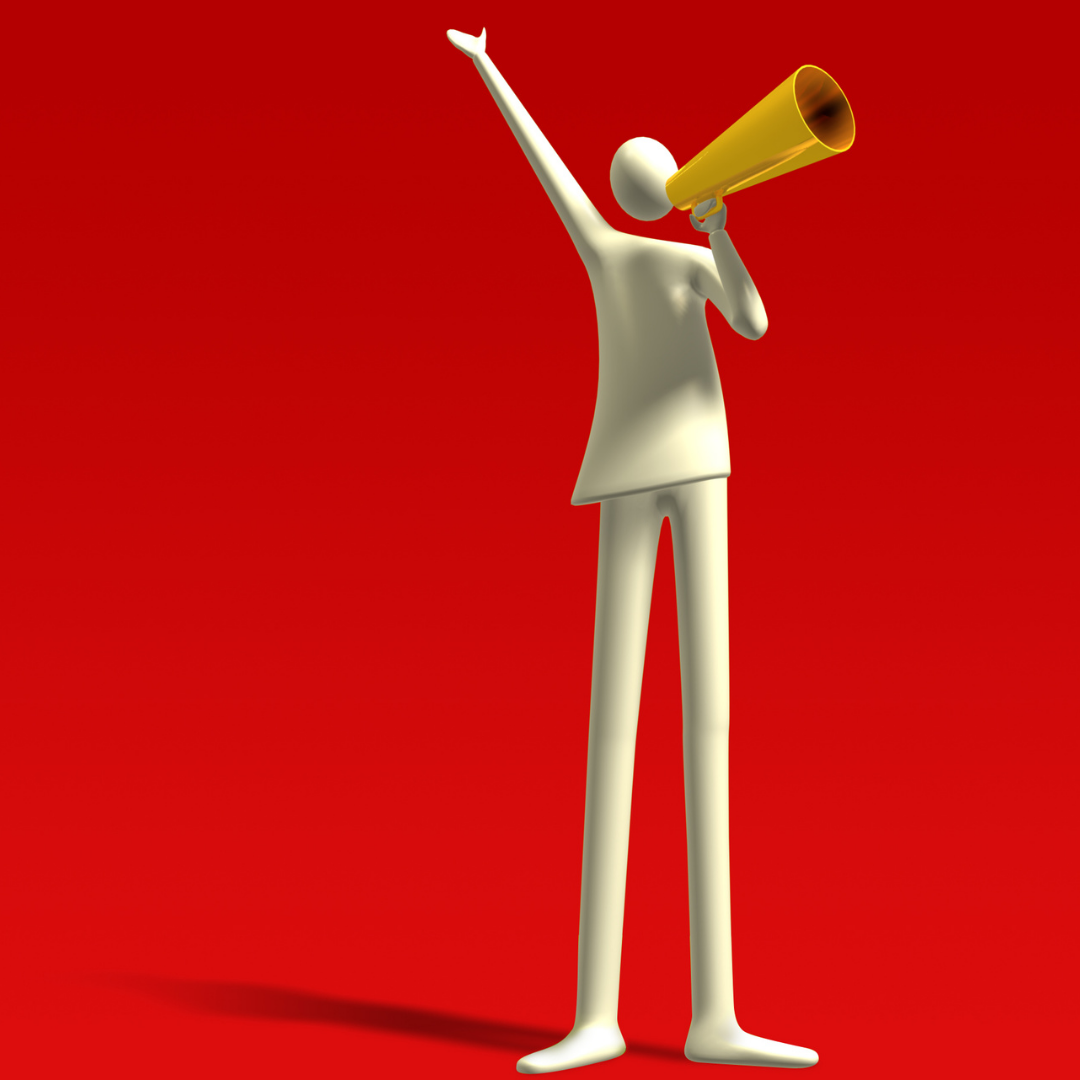 5. Evaluate, Evaluate, Evaluate
Throughout the strategy, we used a number of evaluation methods to ensure we were constantly trying to improve the efficiency of the strategy.

Informal conversations were constantly taking place in department meetings, corridors and work spaces which were not happening previously. The digital team held monthly meetings to ensure accountability of the roles and this also gave us the opportunity to highlight any growing concerns, or favourable trends.

Finally we held surveys via Microsoft Forms to gain feedback from staff on whether or not they felt we were building digital capacity among them and whether or not they were collaborating more now than before the implementation of the strategy. Surveys were posted each December and reflected upon by the digital team for further areas of improvement.
So, was it a success?
Now we may be slightly bias, but we believe the first phase of our strategy has been a success!
However our staff, student and parental feedback has all testified to this also. As mentioned earlier, we are still only in the early stages of our journey, but we feel our staff have developed their digital capacity over the course of the strategy, while continuing to improve both their communication and collaboration practices with each other throughout this time.
Our goal at the beginning was to work towards this, so as to ensure that we equipped our students with the tools they needed to support them in their future careers, strengthen their lifelong prospects and create the world of tomorrow. We fully believe we are on track to helping our students become the digital citizens they need to be during the 4th industrial revolution!
Dos & Don'ts!
Do
Start with your 'Why?'
Take your time.
Create a Core Team – human relationships are crucial!
Be innovative and flexible in your approach. It's not a one size fits all.
Continue to ask yourself, is this benefitting our students?
Don't
Worry about mistakes or failing. They are going to happen!
Do too much too quickly.
Underestimate the importance of working with Senior Management Team
Stop reflecting on your practices. Look to constantly improve!
Worry about where you are now. Think about where you will be in 3 years!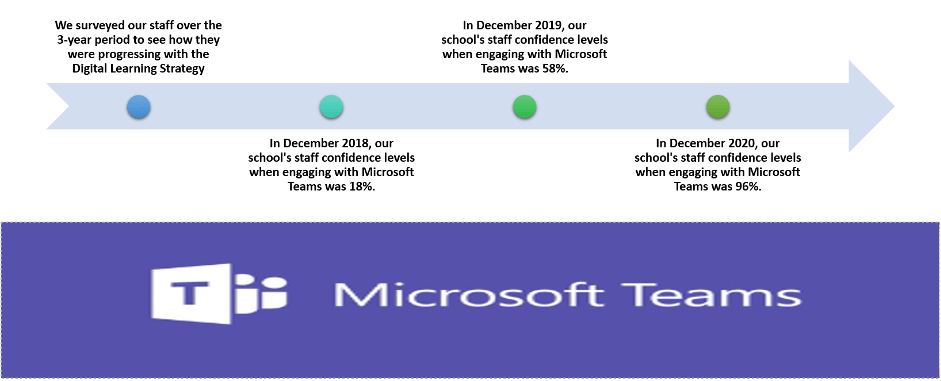 WANT FREE ACCESS TO ONLINE TRAINING EDUCATORS?
Book a FREE Demo of Wriggle Connect Online Training Today!
Stay Social and Join the Conversation Online
About the Author
Paul Cahillane
Paul Cahillane is a teacher of Geography & LCVP. He is the ICT & Staff Development Co Ordinator in St. Marys CBS Portlaoise, and is a Microsoft Innovative Educator Expert and Microsoft Innovative Educator Master Trainer. Paul is a technology in education advocate, committed to life-long learning. He is passionate about facilitating student-led learning and engagement and educational change.
As a Wriggle Connect Ambassador, Paul has created the 'Microsoft Word on iPad' and 'Microsoft Stream on iPad' Learning Pathways on the Wriggle Connect Platform, Ireland's ONLY Educator Professional Learning Platform – Developed by Educators for Educators.
To learn more about the courses Paul has created on the Wriggle Connect Platform, click on the
courses
section if you have a Wriggle Connect account, or
sign up
on the Wriggle Connect platform today!