by Conor Maxwell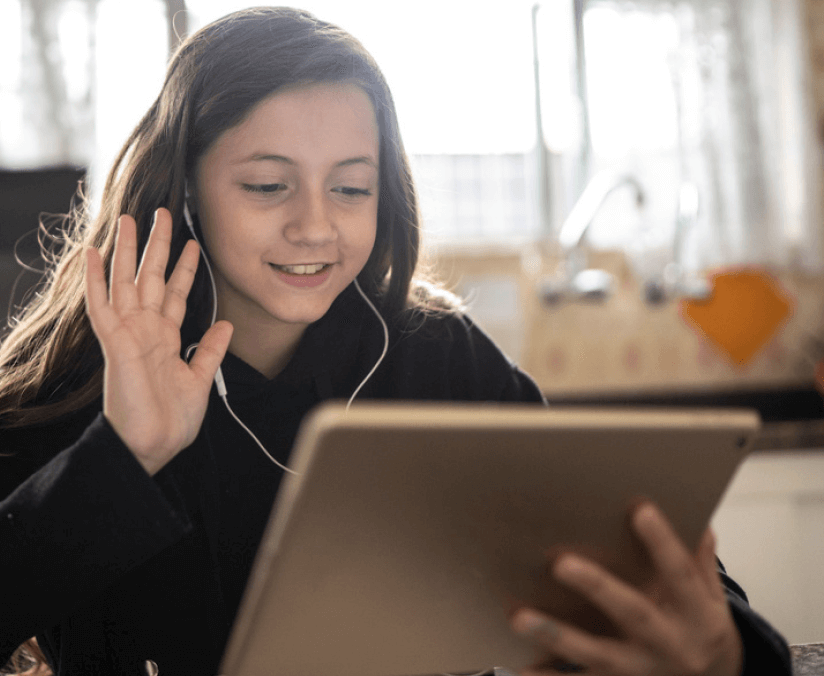 Classroom-Based Assessments (CBAs) are designed to take place over three weeks throughout the school year for second and third years at designated times, with one CBA to be completed each year for each subject studied. With the move to remote learning once again after the Christmas break, these CBAs now have to take place remotely and my "classroom" has now taken the form of Microsoft Teams calls from my kitchen. Nonetheless, there was great engagement from the students.

For the most part, I have found the CBA process a hugely positive experience. With small tweaks along the way, all students have now submitted their CBAs, and I am busy procrastinating from correcting by writing this blog post.

For other teachers also currently completing CBAs remotely, here are my top tips and takeaways to make this a smooth, successful process: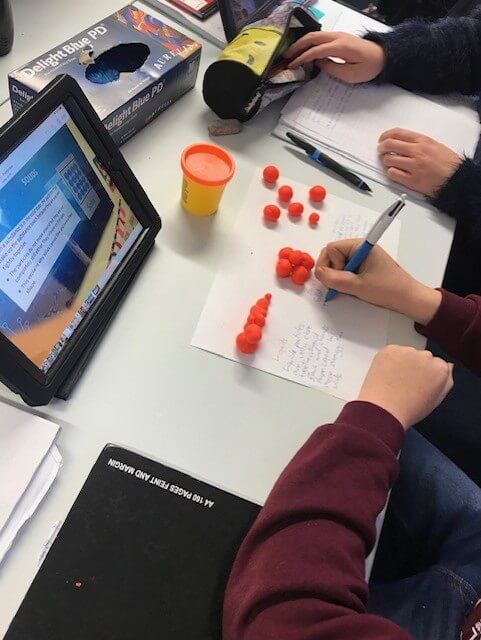 WANT FREE ACCESS TO ONLINE TRAINING FOR REMOTE LEARNING FOR EDUCATORS?
Book a FREE Demo of Wriggle Connect Online Training Today!
Break it down into manageable tasks
CBAs can be daunting enough for students in the classroom, never mind when you're not physically there to guide them along. Going from a blank page to a project as in the exemplars provided is no mean feat, so with that in mind, I introduced my classes to CBAs by using small tasks, like the following:

Examining Features of Quality- We read through the features of quality together before examining one of the exemplars. In breakout rooms, the students had a chat with each other about areas they felt were really good about the project and things that could have been improved. They, as they said themselves, "loved being like a mini-examiner". Any students I felt this may be a bit much for, I kept them in the main room with myself and was able to guide their thinking.

Using Exemplars
- I gave them the chance to read 2-3 more of the samples and fill in a table given on OneNote. They were asked to write what the aim of each project was, what steps were followed in it's completion, what graphs/diagrams were used and what the conclusion of the project was. So, while not actually even thinking about their own idea yet, they were beginning to get into the mind-set of what was going to be involved in completing their own CBA. A task like this can be easily adapted to suit all subjects.

Drafting Ideas-
Once this was done, they began to draft their idea. We dealt with one small section at a time. Work on the problem question first. We then move onto what steps we will use to solve it, started to gather data etc. building up bit by bit to get the final piece ready.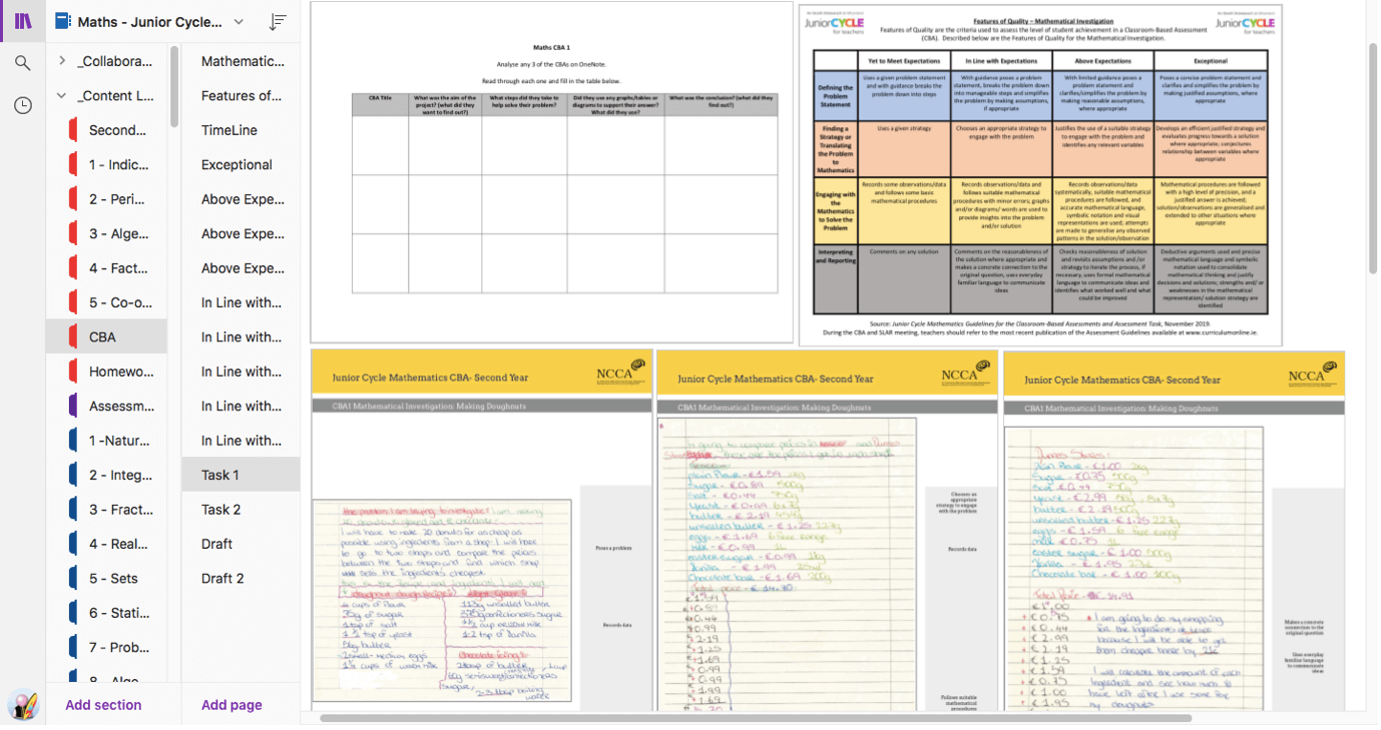 (An example of my subject notebook where students have access to exemplars, features of quality and any tasks they are assigned to complete)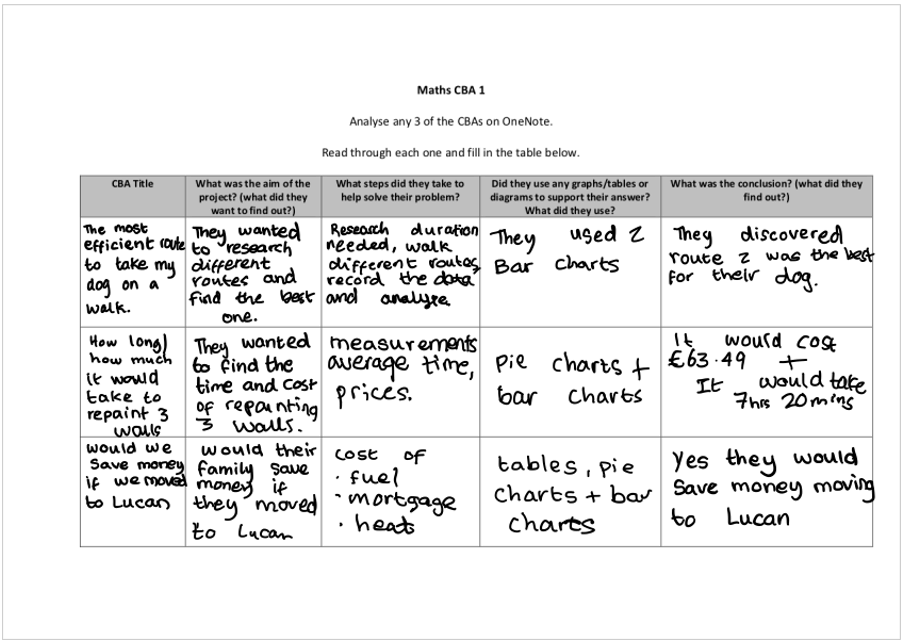 (An example of a student task to review exemplars to get them into the mindset of what was involved in completing a CBA)
Give Students Clear Deadlines
Give students explicit instructions and clear guidelines as to when they need their work done for. This is even more important while we operate online. I found it useful to have rough deadlines in place and available to them on the subject notebook. They could check in with these to assess their own progress and it made the final few days a lot easier on all of us when the final deadline was approaching.
Normal heading 4
WANT FREE ACCESS TO ONLINE TRAINING FOR REMOTE LEARNING FOR EDUCATORS?
Book a FREE Demo of Wriggle Connect Online Training Today!
Giving Effective Feedback Efficiently

Feedback on performance is undoubtedly, one of the single most powerful influences on student achievement. It is very important that as students move through the completion of their CBA, effective feedback is provided to move their progress forward. My biggest takeaway from this process? Use audio feedback!

Audio feedback has cut my correction time massively while actually enabling me to give more feedback in that time. Students can listen to the feedback in their own time as many times as they want. There is also an empathetic aspect to voice. My own students have reported that it's a lot more personal to them and that they enjoy getting feedback this way.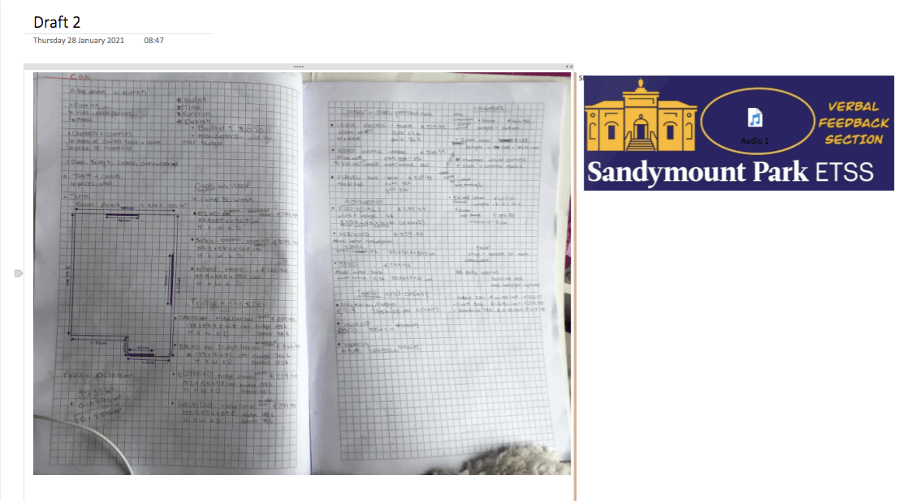 (An example of using a banner to highlight where the audio feedback is located)
One drawback to audio feedback on our subject notebook was that the audio clip could become lost easily by students. One of my colleagues had an idea to design a school banner that could be used to insert it on. This means students can easily find it when going back through their work.
The Importance of Check-ins
The most difficult part of the process for me was not being able to be there with my students for the entire process. This is where video check-ins were a huge advantage. Here are a couple of pointers for these video calls:

- Same group, same day, same time: Keep things simple. Students were assigned a group at the start of the process with a check in call at a designated time every week that didn't change. They were kept to 10/15 minutes per group.

- Group friends: The idea of the groups was that students could see their friends, would be more encouraged to turn on their camera in the smaller setting (no more death by blank screen!), and be more likely to ask the questions they had without the pressure of all the other students being there.

- Be ready to offer more to those who need it: The CBAs can be difficult for students so be ready to offer more support to those who need it, as we would in our physical classroom. Some may need an extra check in call to see how they're getting on.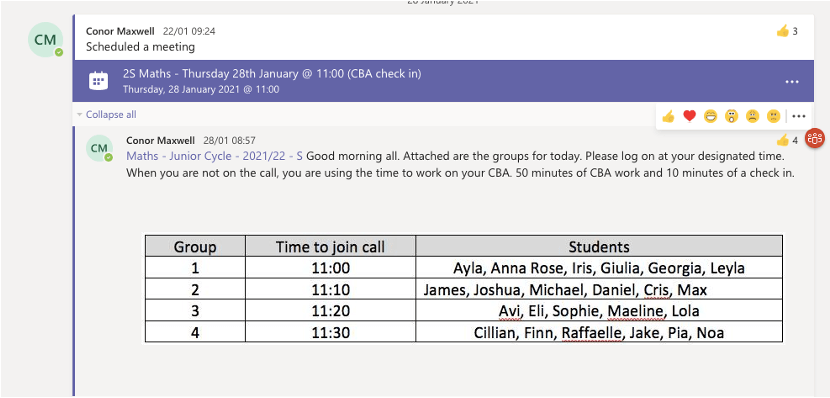 (Students assigned to groups for their check in calls)
WANT FREE ACCESS TO ONLINE TRAINING FOR REMOTE LEARNING FOR EDUCATORS?
Book a FREE Demo of Wriggle Connect Online Training Today!
Grading made Easy
While I am yet to actually do this part, I can't advocate enough for using the assignments feature on Teams to allow students to upload their work. It centralizes everything for the teacher, meaning quick access to all of the CBAs, but it also makes corrections so much easier. A couple of things to consider to get the most out of it:

- Rubric: Copy and paste the features of quality from the NCCA into the designated rubric section. This makes your corrections so much easier because you just have to select what descriptor each criteria of the CBA will get, before giving an overall grade. It can be reused in future years too.

- Positive Feedback: One drawback here is that despite my harping on about the benefits of audio feedback earlier, there is no option for audio feedback here and it has to be typed. However, it is important that the feedback looks at the positives as well as areas that could be improved. This could be the first time students have done such a big project. Let them know how impressed you were by the work they did before getting onto areas for improvement.

- Video-tutorials: if this is the first time a student will upload an assignment to Teams, rest assured they will run into difficulties. Spend time in a class sharing your screen showing them how to do it, prepare a video and send it to them, or use some of the many readily available ones already on the Microsoft YouTube channel.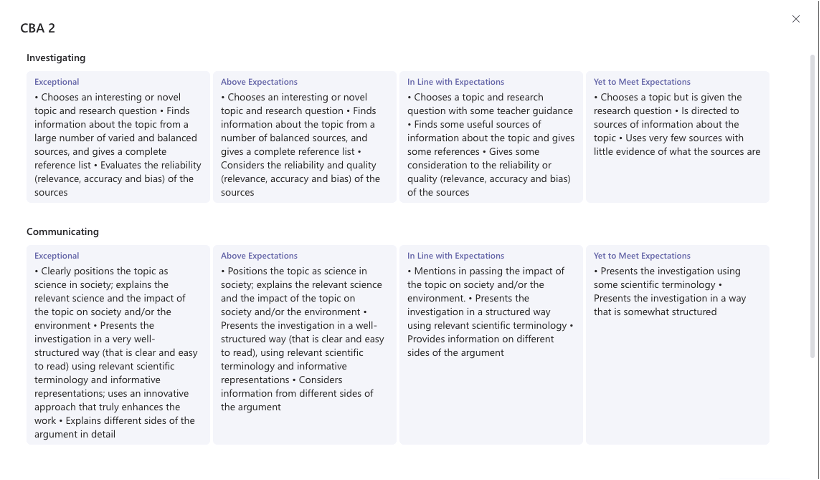 (The features of quality set as the rubric for the assignment)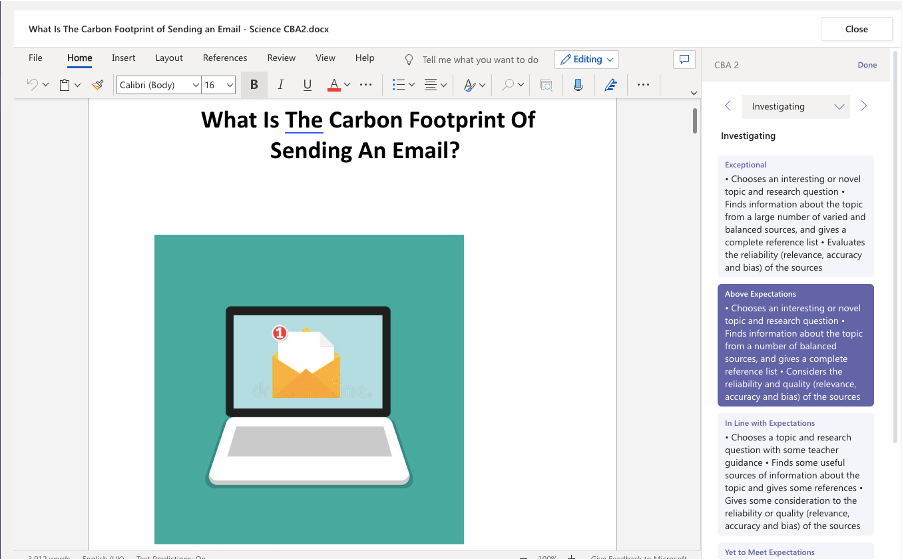 (My view correcting the assignment, and the rubric allowing me to easily assign a descriptor to each aspect of the CBA)
Overall, while it was a very busy 3 weeks, I feel like it was (mostly!) smooth. There were a few small hiccups along the way, but at the end of the day, there would have been even if we were physically in the classroom.

There have been huge learnings, not just from the CBA itself, but by the way in which both myself and the students developed and adapted our digital skills and used them to successfully complete the Curriculum Based Assessments. I guess it's true when they say "nothing ventured, nothing gained."
WANT FREE ACCESS TO ONLINE TRAINING FOR REMOTE LEARNING FOR EDUCATORS?
Book a FREE Demo of Wriggle Connect Online Training Today!
Follow us on social media for the latest blogs and webinars
About the Author
Conor Maxwell
Conor is a science, maths and coding teacher in Sandymount Park Educate Together Secondary School. Conor is ICT Coordinator in his school and gives training sessions top both his students and fellow teachers. He is a certified Microsoft Innovative Educator Expert and Apple Certified Teacher and he believes strongly that when used effectively in the classroom, technology can have a transformational impact on student learning.
As a Wriggle Connect Ambassador, Conor is creating the 'Office 365' Learning Pathway on the new Wriggle Connect Family Platform for Student and Parents. Watch out for this brand new platform coming soon!!!
To learn more about the courses available to teachers on the Wriggle Connect Platform, click on the
courses
section if you have a Wriggle Connect account, or
sign up for a FREE 14 day sample training course
on the Wriggle Connect platform today!