by Evan Dunne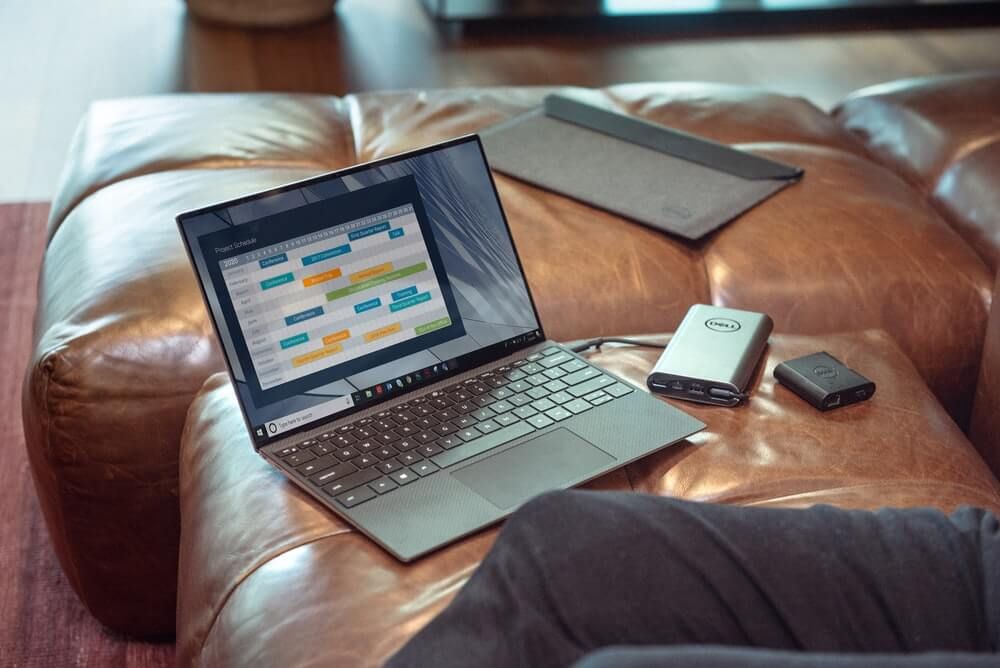 As we progress through our second prolonged school closure due to the COVID 19 pandemic, teachers have again had to adapt their methods to suit the world of remote learning. A key issue that I have tangled with over the past five weeks is how to effectively assess students during this period. Our traditional in-class assessment methods have had to be modified but what are some new approaches we can take at this time?

Here I will provide some tips for effective formative and summative assessment during this remote learning period and what elements of this I'll be taking back into the classroom. I'll mainly focus on some interesting digital tools than can make the process easier for us as educators and more engaging for the students. 
LOOKING FOR ON-DEMAND TRAINING IN TECHNOLOGY FOR LEARNING FOR YOUR STAFF?
Get up to 4 months FREE access to Wriggle Connect Online Training!
Assessing Student Progress with Digital Whiteboards
In my opinion, formative assessment lends itself perfectly to remote learning as there is a plethora of digital tools available to educators that enables us to quickly evaluate each students progress as they proceed through a unit of work. Each time I log on to Twitter I'm met with a barrage of new ideas and apps which sometimes can be a bit overwhelming! 

An online tool which I have found extremely useful for formative assessment is www.whiteboard.fi. This is free whiteboard application which provides each student with their own individual digital whiteboard. These whiteboards will update in real time and students can see each other's progress depending on the task given. I have found this useful for checking progress, higher & lower order questioning, exit tickets, etc. It also encourages those less likely to engage in a remote lesson to participate. This tool can easily be used back in the classroom too. Providing students with a task and watching their progress through the projector will give you the opportunity to highlight common mistakes and commend good work.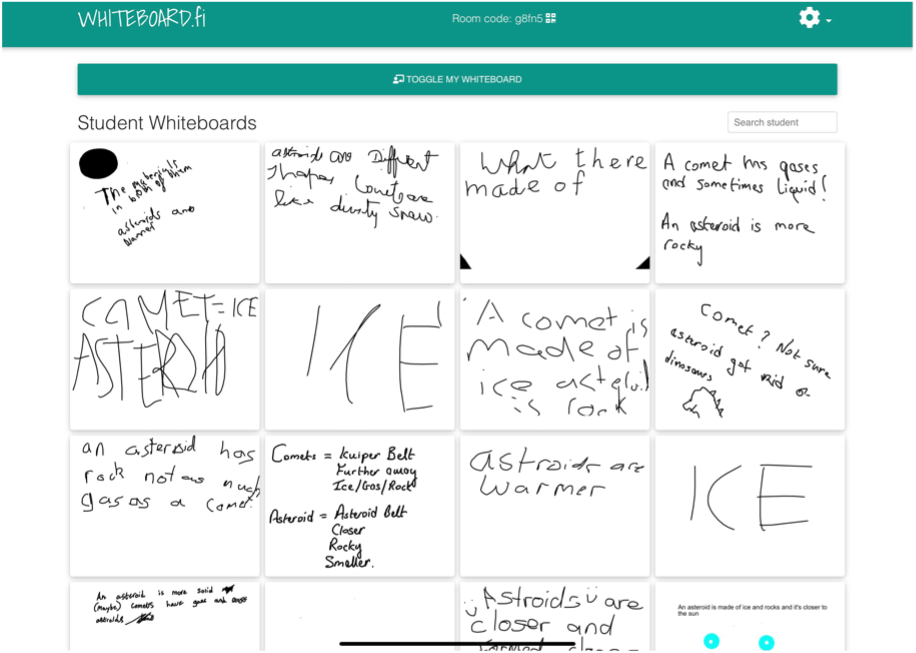 Rapid Assessment via Microsoft Teams
A similar and perhaps more simple technique can used whilst using your schools digital learning platform. Whilst in a live Teams meeting, I have been using '3-2-1-Send' in order to check for student understanding. This where I will count down from three, and when I say "send" all students will send in their answer to the question posed via the chat function. This way students don't have to time to look at responses from their peers and they formulate their own answers. It's a quick and easy form of assessment that's both enjoyable for students and gives you a real insight into their thinking.
LOOKING FOR ON-DEMAND TRAINING IN TECHNOLOGY FOR LEARNING FOR YOUR STAFF?
Get up to 4 months FREE access to Wriggle Connect Online Training!
Formative Assessment with Microsoft Forms
Another assessment tool I have been using is Microsoft Forms. Although most of you will be familiar with this application, it seems that most educators tends to use it as a summative assessment tool. I feel it is important to highlight its potential in relation to formative assessment. During a remote lesson I have been giving some of my classes a "Mend the Mistakes" Microsoft Form where they will be given a series of factually incorrect statements about the material we have just discussed. Their job is to spot the mistake in the sentence and select the option that fixes it from the multiple choices available to them. When the students are finished, I review the answers on screen which are nicely laid out in charts and graphs. This will allows me to clear up any misconceptions the students may have about the topic and I can also assess students progress on an individual basis thereafter by viewing their responses. I will certainly be aiming to use forms in this manner more often in the classroom as live effective feedback that is instant, clear and purposeful is extremely valuable as it will help improve student performance.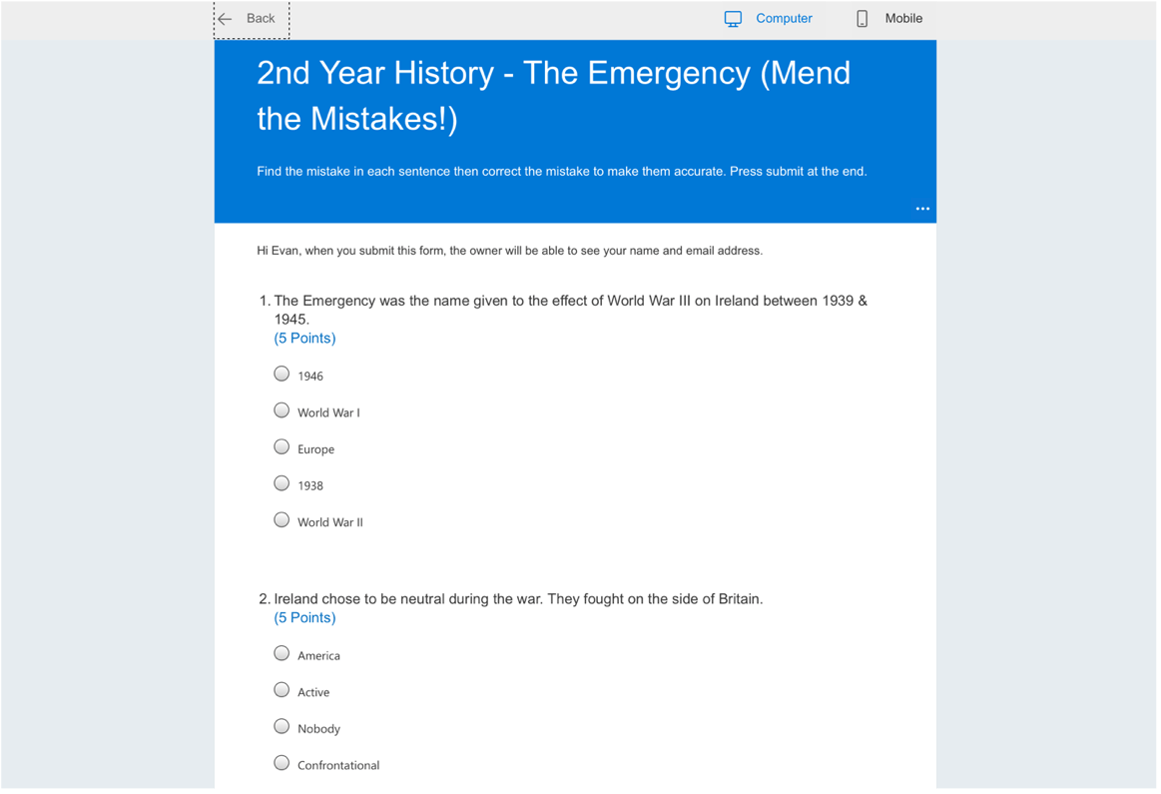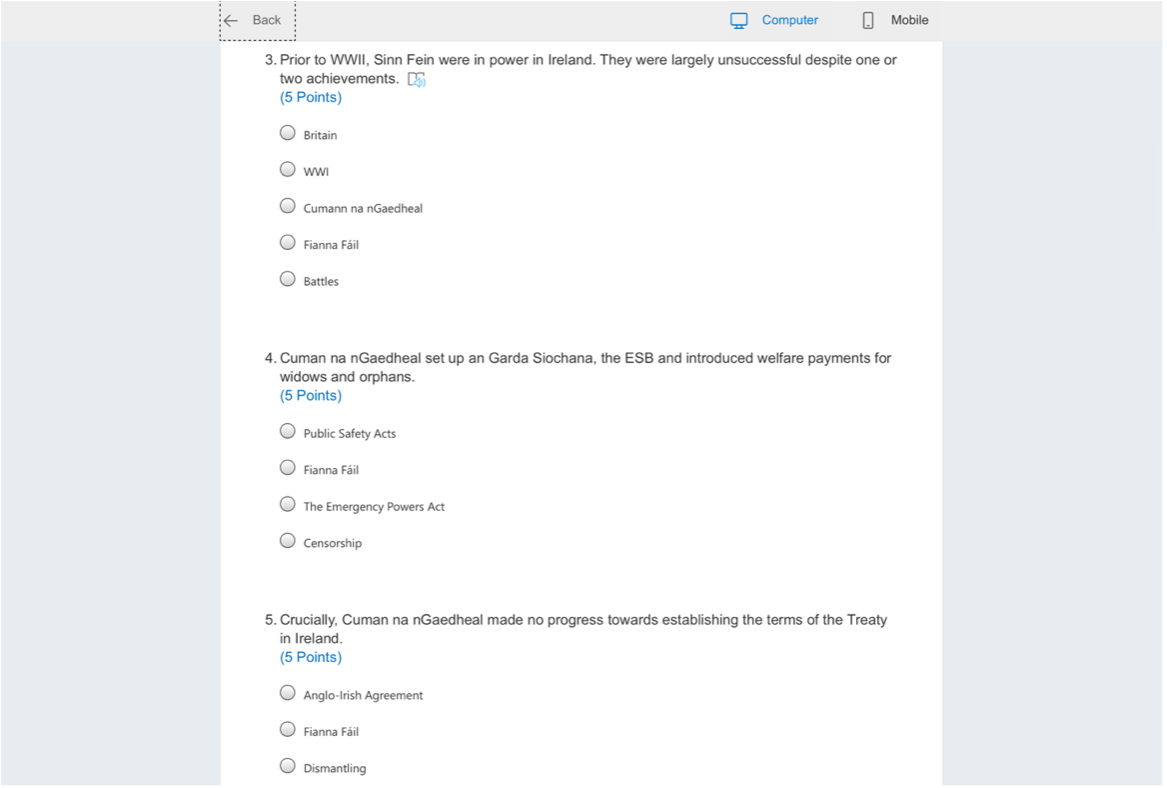 Summative Assessments with Rubrics in Microsoft Teams

Carrying out summative assessments in the virtual classroom can be tricky for a number of reasons. How can we ensure that these assessments are a true reflection of a students learning? How can we stop them from using their books and other materials in order to improve their scores? The short answer to both these of questions is we can't. However, there are certain things we can do ensure that these assessments are of value to us as educators.

Rather than giving traditional summative assessments to students I have been using project based summative assessments which encompass a choice of ICT applications. Project work helps to keep students interested during remote learning, particularly junior classes, as it gives them an element of freedom when carrying out their work. Students can avail of apps such as Padlet, Wakelet, Microsoft Sway, etc. However, it's extremely important to provide the students with a rigid success criteria in order to guide their work. The rubric feature is Microsoft Teams assignments can help provide direction to students whilst also enabling you to mark their work quickly. Rubrics can be saved and used for future projects.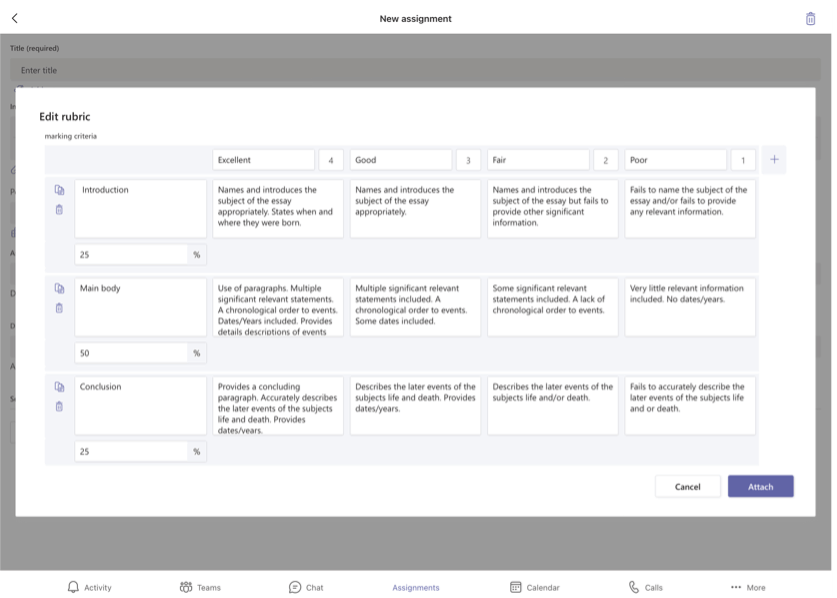 LOOKING FOR ON-DEMAND TRAINING IN TECHNOLOGY FOR LEARNING FOR YOUR STAFF?
Get up to 4 months FREE access to Wriggle Connect Online Training!
Exam Preparation using OneNote
If we do wish to to carry out a more traditional summative assessment that encompasses lower and higher order questioning then the main tool on our side is time. Limiting the time students have to complete a summative assessment task not only provides them with a more exam/like scenario but also limits the time they have to research answers from the book or other sources. A strict time frame to complete the assessment with no late entries has proven to be effective for me.

One extremely useful method I have been using regularly to run summative assessments is OneNote Class Notebook assignments that are linked directly to Microsoft Teams. Firstly, I will setup a new assignment page in my Class Notebook teacher only folder, outlining the assessment. I will then create my assignment in the corresponding Team. Using the 'add resources' feature, you can then link the Class Notebook page you've just created to the assignment. A copy of this page will then be distributed into a folder of your choice within each students Class Notebook folder once the assignment is published. Students then complete their work on the page provided and when the assignment closes (or when they submit their work), the assignment page in OneNote will lock. I would highly recommend this to any users of OneNote Class Notebook and Teams as it is simply the easiest way to mark the students work using a stylus if on iPad. You also get the added benefit incorporating the grading system in Teams.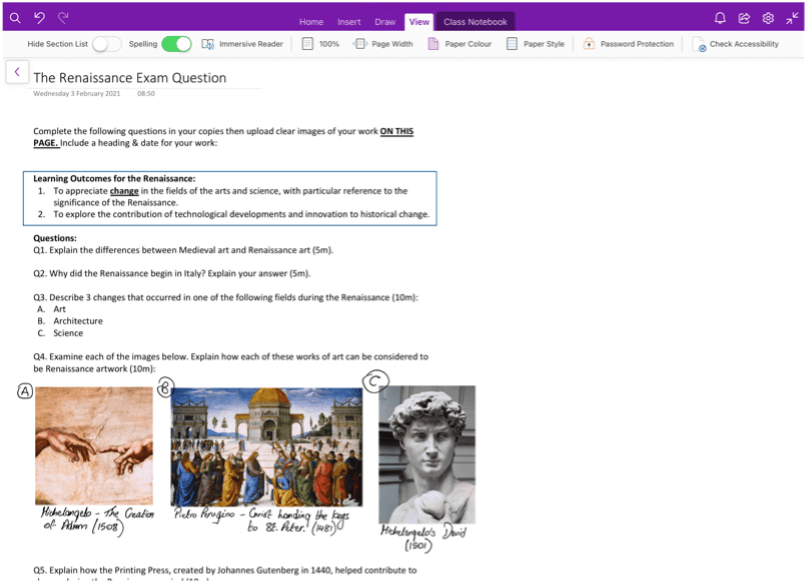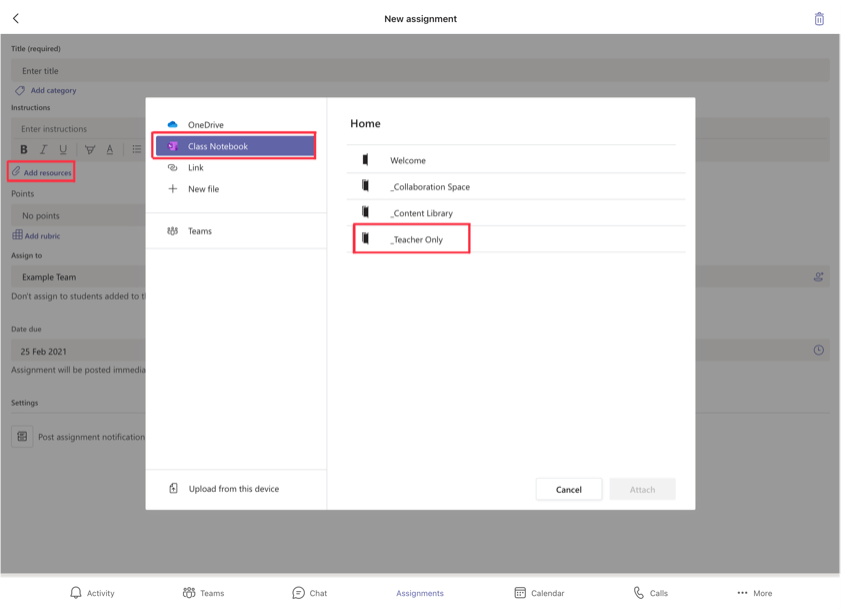 I had been using this method frequently with my current third years in order to prepare them for the now cancelled Junior Certificate and I would strongly recommend using in at leaving very level, particularly with the onus on calculated grades this year and last. Providing my third years with a set time to complete an exam question presented a more realistic examination scenario. I will certainly be using this method when back in the classroom as all the students assessments will be in the one place and easy to mark so I can track their progress throughout. It also means no more carrying around bundles of tests!

Although these are not fool-proof methods when it comes to summative assessments, I believe it is now more important than ever that we analyse both formative & summative assessment results in order to provide us a clearer images of each students progress. 
LOOKING FOR ON-DEMAND TRAINING IN TECHNOLOGY FOR LEARNING FOR YOUR STAFF?
Get up to 4 months FREE access to Wriggle Connect Online Training!
Follow us on social media for the latest blogs and webinars
About the Author
Evan Dunne
Evan is a history teacher at St.Mary's CBS, Portlaoise and a certified Apple Teacher and Microsoft Innovative Educator. He has a huge passion for educational technology, particularly teaching through the iPad, and is always searching for new ways to improve student outcomes via the use technology.
As a Wriggle Connect Ambassador, Evan is creating the 'Office 365 on iPad' Learning Pathway on the new Wriggle Connect Family Platform for Student and Parents. Watch out for this brand new platform coming soon!!!
To learn more about the courses available to teachers on the Wriggle Connect Platform, click on the
courses
section if you have a Wriggle Connect account, or
sign up for a FREE 14 day sample training course
on the Wriggle Connect platform today!